NEWS
Red Carpet Confidential: Robin Thicke Surprised By 'Duets' Baby News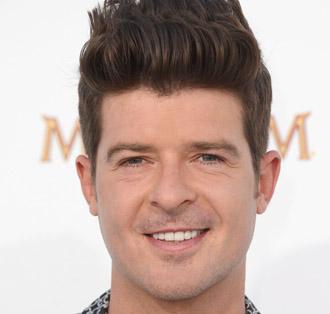 Now that the live shows for Duets begin tomorrow, judge Robin Thicke plans to make a mad dash to the florist to congratulate his fellow judge, Sugarland's Jennifer Nettles, on her pregnancy.
Turns out, I broke the news to him that she announced that she and hubby Justin Miller are expecting their first child.
"She did?! I didn't even know that!" the singer-songwriter, 35, gasps this week. "Oh my gosh, I didn't even know that. Oh my gosh, I have to send her flowers. That's beautiful. I had no idea. What a joy."
Article continues below advertisement
OK! NEWS: SUGARLAND'S JENNIFER NETTLES IS PREGNANT WITH HER FIRST CHILD!
What will she be like as a mom?
"Well, she's a wonderful human being, and an incredible singer," he tells me. "I know she will make a great mother because she's a great teacher and mentor. I think she's the ace on the show. I think she's going to be the one who wins with her partner. She's tough to beat. That girl's got it down."
MORE ON:
Red Carpet Confidential
When it comes to parenting, Robin gained his hard-earned wisdom from fathering son Julian, 2, with wife Paula Patton. (Of course, having a dad in Growing Pains actor Alan Thicke helps, too.)
OK! BLOGS: RED CARPET CONFIDENTIAL: MAKSIM CHMERKOVSKIY CAN'T WAIT TO BECOME A DAD
What would he tell her?
"Start disciplining as early as you can," he says with a laugh. "It really pays off."
Despite the bad reputation that gives way to the "terrible twos" moniker, he has his little guy well-trained.
"Julian is an angel all the time," he says. "If he has a little tantrum for a minute, he's over it in five minutes. It's gone. He's very well-behaved. He already takes his plate to the sink. He's a great kid."
Tune in to watch Robin perform in the first Duets live show Thursday at 8 p.m. ET on ABC. He will take the stage along with Jennifer, Kelly Clarkson and John Legend, who perform their favorite songs from this millennium with their remaining duet partners. Then, the polls will open and America will get to choose who stays in the competition and who is sent home. Get out your votes and support Robin!