NEWS
Red Carpet Confidential: Kelly Ripa's Guide to a Happy Family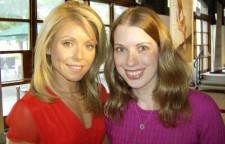 Not only does Kelly Ripa do her own laundry ("This morning I washed colors," she says), but she also keeps her family on track with weekly visits to church. And, Michael, 12, Lola, 8, and Joaquin, 6, are pleased to be in the pew.
"The kids know if they're good at church, they can go to the bakery after, and pick out whatever they want, so they have incentive to not goof around in church," the bubbly Live With Regis and Kelly star, 38, tells me during the Electrolux Virtual Lemonade Stand event to benefit OCRF. "It's just an hour a week that I ask them to be reverent – that's it."
Article continues below advertisement
She considers church on Sunday and hitting the beach on the weekends during the summertime two of their family rituals, and they have a dog named Chewie who joins them on their adventures.
"She's a spoiled lady. She's got three kids that scratch her and play with her all day long."
Kelly isn't perfect, though. "I try not to get angry that often, but it probably has something to do with traffic. Driving out to Long Island, just in general, every weekend and sitting in traffic."
Luckily, hubby Mark Consuelos, 38, calms her down, and has qualities that make him a great dad.
"He's incredibly patient and responsible," she says. "He is consistent. He is stern, but loving. He's involved."
The couple, who wed in 1996, keep the magic in their marriage through romantic gestures.
"We went away for our anniversary to Turks and Caicos," she says. "It was unadulterated relaxation time. We sat on the beach together, we had beautiful, long meals where we just talked, and it was just gorgeous. Perfect."
Article continues below advertisement
But Kelly and Mark can unwind without spending a fortune.
"Mark and I like to sit on the sofa – I'm not kidding – and watch Anderson Cooper 360," she says. "We know Anderson, we love Anderson, he's very knowledgeable and we just like to see his thoughts and feelings on the world. It's kind of what we do.
As for hobbies?
"I like to do laundry a lot. More than I should, probably. It's an obsession at this point. I also love to go jogging, and I love to bake. I like to bake cupcakes. I like to do projects with the kids. Stuff they can do too."
Get Kelly Ripa's Last Word interview in the OK! on newsstands now. Michael Jackson's kids/"Be Our Mommy" is the cover line.