NEWS
Red Carpet Confidential: Kris Jenner Says Rob Kardashian Will Make An "Amazing" Hubby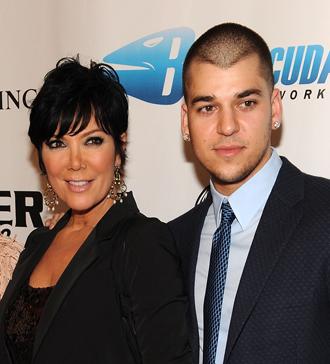 As Kim Kardashian endures backlash from her divorce filing 72 days after she wed NBA star Kris Humphries, mom Kris Jenner is ready to marry off her only son, Robert Kardashian, 24.
"Rob is the greatest kid," she says today during a Moms and The City luncheon to celebrate the release of her memoir Kris Jenner and All Things Kardashian at The Darby in NYC. "He is going to make somebody the most amazing husband. He likes his towels just so. A trip into Robert's closet is like a girl's dream come true. Everything matches, it's all set up, his shoes are in order, he's got a perfect, clean underwear drawer. It's very important to him. He's the best metrosexual guy I know. He's always shaving or doing his nails. He's quite the guy."
Article continues below advertisement
OK! GALLERY: KRIS JENNER SHARES ABOUT FAME, FAMILY & ALL THINGS KARDASHIAN AT BOOK PROMOTION
One reason Robert is such a stand-up man is because he had a great role model.
"Robert is one of those amazing individuals. He was very close with his dad Robert Kardashian, Sr., especially the couple years before his dad passed away, which I'm so grateful for. He was like a sponge. He loved any testosterone that was around, even if it was a puppy, he'd be like 'I'm hanging with you' because there were so many girls, and they were so controlling. I'm kind of a control freak, so I guess you pass that down to your children."
OK! NEWS: KIM KARDASHIAN'S FIRST INTERVIEW POST-DIVORCE — " I WOULD NEVER MARRY FOR A TV SHOW"
Of course, she can't help but boast about the "only boy Kardashian that can dance," who is a finalist on Dancing With the Stars.
Beaming, she says, "He learned nothing from those girls, and it wasn't from Kim 'cause she can't put two steps together. We know that."
She adds, "I'm so proud of him. He's really grown up a lot, especially on Dancing. He made it through another round last night. I sat and bawled in front of the TV."