NEWS
Kim Kardashian's First Interview Post-Divorce: "I Would Never Marry for a TV Show"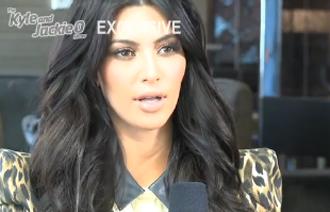 Article continues below advertisement
"I mean, you know, in the tough situation I think I'm trying to do the best that I can," Kim said. "It's actually an escape to be able to come here. I had this work commitment for our Kardashian Kollection handbags that we're doing out here, so I really wanted to honor that commitment and come out here just to get my mind off of everything. There's really no easy way to go through something like this."
Kim flew yesterday to get to the interview in Australia and had the support of sister Khloe Kardashian Odom.
"I don't think I'm ready to go into, you know, the details of what went on in my marriage," she said. "But I do want to make clear that I would never marry for a TV show, for money, for anything like that. I think that's really ridiculous that I have to even defend that.... I guess, you know, that comes along with when you film your wedding for a reality show."
Article continues below advertisement
OK! NEWS: KIM KARDASHIAN POSTS MESSAGE TO FANS & UNFOLLOWS KRIS HUMPHRIES!
And the interviewers were even brave enough to ask Kim if she's ready to date again!
"No. I'm not," Kim said with a sad face. "I'm not even thinking about that."
Has her divorce changed her view on marriage? Is she still a hopeless romantic?
"I think I just want to chill out for a little bit. I'm not even thinking about that. I am a hopeless romantic, and I'm in love with the dream of what all of that represents," Kim explained. "But I think my answer now would be different from later. Right now I'm just like, 'Oh, I don't know if that's what's in the cards for me.' "
Watch a clip of Kim's interview below.