NEWS
Red Carpet Confidential: Nick and Vanessa Lachey Get Ready For Baby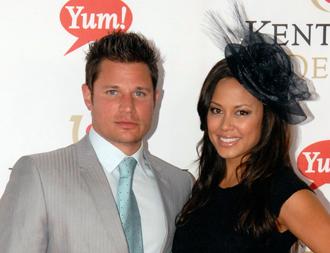 Now that Nick Lachey announced that wife Vanessa is three months pregnant with their first child Monday on Live! With Kelly, they can get moving on baby preparations.
But one thing that's already set is their house in Cincinnati, Ohio, located next door to his brother Drew, where they plan to raise their kids.
"It's great to be around family," the former 98 Degrees singer, 38, tells me. "I think when you're kids, it's like the typical dream for brothers. Our kids can grow up together, and play together. We love it."

Article continues below advertisement
Living next door to his nieces and nephews has given them practice for raising their own family.
"It's great to be that close," he says. "You can be in their life on a daily basis, and watch them grow up, and watch all the little phases that they go through, so it's a great situation. We're very happy."
OK! NEWS: NICK AND VANESSA LACHEY ARE EXPECTING THEIR FIRST BABY!
But don't expect the reality show hosts — Nick on The Sing-Off and Vanessa on Winter Wipeout — to make their private life public. Nick's marriage to Jessica Simpson crumbled in divorce in 2005 after the couple filmed MTV's pioneering couples reality show, Newlyweds, beginning in 2003.
In October, Vanessa, 31, was firmly against welcoming cameras into their home.
Pal Jaime Pressly says, "Here's the thing: They're actually working, so there's not going to be a reality show. laughs They're going to actually stay together."
Indeed, their marriage seems solid. The couple tied the knot last July, and share the same Nov. 9 birthday.
"I think the biggest thing that has changed since we got married has been our communication," Vanessa says. "There's no 'out' clause, so we literally talk through everything, and it's great. The good, bad and the ugly, we talk through it all. We know we're in it for life, and what better person to work it out with than your partner?"