NEWS
Red Carpet Confidential: Nick Lachey Admits Baby Changes Everything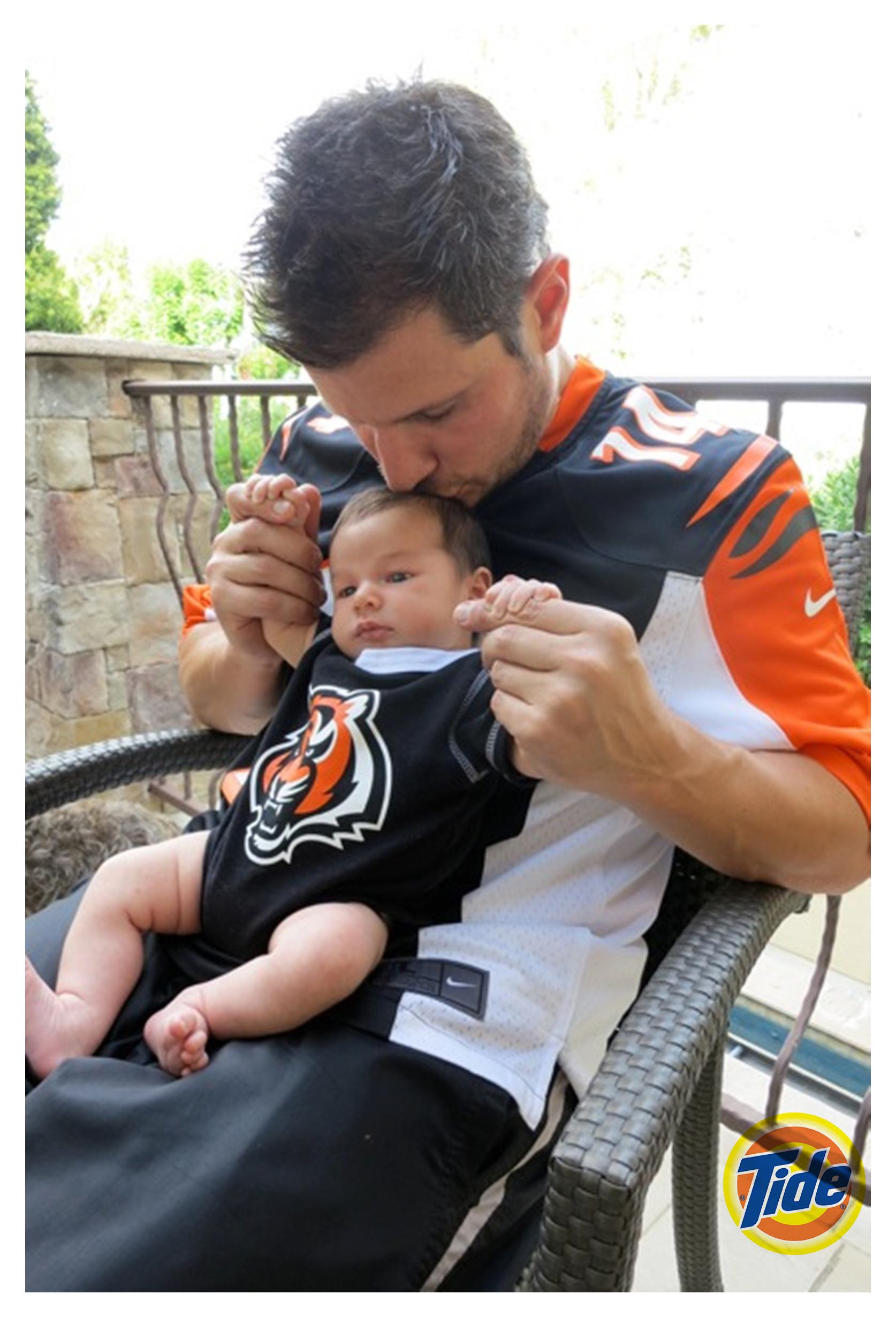 Becoming a father for the first time has led to adjustments for Nick Lachey, who welcomed son Camden five weeks ago with wife Vanessa.
The couple wed last year after spending five years together.
"Everything changes," he tells me while promoting Tide's Show Us Your Colors campaign, which celebrates the passion people have for the colors of their favorite NFL team. "Your priorities change, your schedules change, your experiences change in the house, the way the dog acts changes, but it's all stuff you're excited to see change. Those are the changes that you want to have in life, so it's been exciting to go through all of those."
Article continues below advertisement
"Trust me, we're going through Tide left and right at our house. As most babies are, I'm sure, he's going through clothes pretty quick. But I try to help out wherever I can. I've changed quite a few diapers and done quite a bit of laundry."
Lucky Nick now has a buddy to join him watching football games as he roots for his favorite team, the Cincinnati Bengals.
"Well, he's so small and sleeping through most of it now," he admits. "The idea of sharing those moments with him through the years and those traditions of getting together as father and son on Sundays to watch your team — that's pretty cool."
Article continues below advertisement
He continues, "I'm a big sports guy, so having a son is a pretty special thing. I can't wait to continue to have those experiences and those memories with him."
For Nick, the songs he croons are no longer of the Give Me Just One Night (Una Noche) variety. He has a special lullaby for his little guy, and has taken career inspiration from it.
"I'm in the process of working on a project, an album of lullabies, that is going to be dedicated to him. He's definitely an inspiration, and it's been fun to work on and explore that."
Like many parents who bond with their little ones, he has developed a few nicknames for his son, whom he calls "Cambone" and "C.J."
OK! GALLERY: VANESSA LACHEY CRADLES HER BABY BUMP AS SHE PROMOTES 'TAKE A LOAD OFF' CAMPAIGN IN L.A.
His bond with wife Vanessa is stronger than ever.
"It has just added another chapter to it," he says. "We obviously loved each other a whole heckuva a lot before we had a kid together, but I think when you have a baby together, it takes that to a whole other level, man. This is something you create together, and a real reflection of both of us, so it's a very special thing. It's a bond you can't ever take away, and it's something we'll always be proud to share together."
Article continues below advertisement
As a mom, Vanessa is a pro.
"She's looked forward to being a mom for a long, long time. She's taking it very seriously, and most importantly, she's full of love, and she's given all that love to our little guy. I couldn't ask for more in a mother than Vanessa."
Of course, the new parents are thrilled to watch him grow, and mark every milestone.
"Every day he's a little bit different. He's a great kid, he's got a great temperament. We love to hold him and smell him and be with him. He's incredible."
Article continues below advertisement
He continues, "For me, it's orange and black because I'm a Bengals fan. I think it also really represents the traditions and the memories that are made with your hometown team. I remember watching games with my dad when I was a kid, and now I get to pass those experiences and traditions on to Camden."
He encourages others to get involved.
"It's a great chance to celebrate our fandom, and we're encouraging people to show us their colors and post a picture of a moment that was really meaningful for them in representing their colors. Post that picture on Tide's Facebook page, and in doing so, you're automatically entered for a chance to win an all-expenses-paid trip to the New Orleans Super Bowl this year. Some lucky man or woman out there is going to get a chance to go to New Orleans and have a great time at Super Bowl."