NEWS
Red Carpet Confidential: Niki Taylor Urges Pregnant Jessica Simpson to 'Go Natural'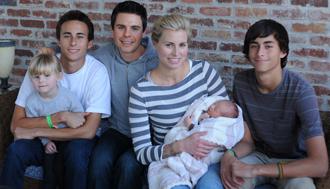 Now that married mom of four Niki Taylor is gearing up for the March of Dimes March for Babies taking place Saturday in Miami, babies are on the brain.
One baby we can't stop thinking about is Jessica Simpson's little one, who is set to arrive at any moment.
What advice would she give the Fashion Star mentor?
"I would encourage her to try to have the baby natural — that's what I did with my kids," the former supermodel, 37, tells me today while promoting the March of Dimes March for Babies. "Try without the epidural laughs."
Article continues below advertisement
The Having It All star would know: She is mom to twins Jake and Hunter, 17, whose dad is ex Matt Martinez, and Ciel, 3, and Rex, five months, whose dad is Burney Lamar.
OK! BLOGS: RED CARPET CONFIDENTIAL: GIULIANA RANCIC'S BABY DREAM COMES TRUE
Why is it best without the anesthetic?
"I think because your recovery is better," she explains. "For myself, I did epidural for my boys, and it took me so long to get out of this fog, because it messes with your spinal fluid and it goes right in your back. For myself, I felt like I was in this fog, and it took forever for me to get out of. I couldn't feel what I was pushing, and for my boys, it was 28 hours, I think I was in labor, and I couldn't feel anything anymore."
She continues, "With Ciel and with Rex, I said 'no epidural.' I recovered, I was walking right after I had them, just did a lot of praying all through my pregnancy that they would be healthy and my deliveries would go without a problem. I was really blessed."
Niki wishes Jessica all the best with her bundle of joy.
"I know she's going to be an awesome mommy," she says.
Niki supports the March of Dimes March for Babies, which helps raise awareness and funds for stronger, healthier babies. Catch her on her reality show, Having It All, which airs Saturday at 8:30 a.m. ET on WeTV.