NEWS
Red Carpet Confidential: Giuliana Rancic's Baby Dream Comes True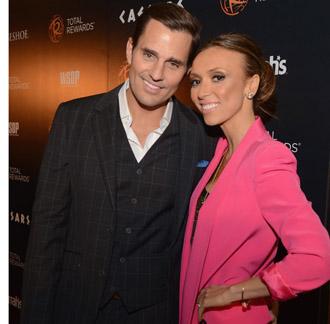 Congratulations to Giuliana and Bill Rancic, who are expecting their first child via gestational surrogate.
The couple, whose fertility troubles have been documented on their Style Network show, Giuliana and Bill, made the joyous announcement to E! News this morning.
The baby is due this summer, and follows a terrifying breast cancer struggle.
How many kids would they like?
"I used to say a few – three or four – but now one would be good," the Glade Expressions spokeswoman, 36, tells me with a laugh last month. "I think beggars can't be choosers, but I've always loved the idea of a few. Ideally, that would be great. Like three or four."
Article continues below advertisement
OK! BLOGS: RED CARPET CONFIDENTIAL: GIULIANA RANCIC ADMITS SHE LIED ABOUT HER AGE WHEN SHE MET BILL RANCIC
Indeed, a big family appeals to the couple who tied the knot in 2007.
"Bill is the youngest of four," she says. "He has three older sisters, and I have two siblings – we're three. Growing up, I moved here from Italy when I was little, and my father and mother are each one of six, so I have over 40 first cousins, so I grew up with a lot of cousins, very crazy households on the weekends, just a ton of people around, and I loved my cousins, and I'm so close to my cousins today. I love the idea of having a big family, because I grew up with a big family, and a big extended family."
She adds, "Even my sister has four kids. She just had her fourth. She has three little girls and a boy, like Bill's family, so I'd love a few kids to be able to play with my nieces and nephews, and Bill also — together, we have 14 nieces and nephews, so we're next."
OK! BLOGS: RED CARPET CONFIDENTIAL: PREGNANT MELISSA JOAN HART'S HUBBY DOES PANCAKES – AND DIAPERS
Still, one child would do.
"Just being able to experience it and have that blessing. When you go through something like we've been through, and it's been a bit of a struggle — one would be a blessing. One would be great, too."
Article continues below advertisement
Also on deck? A vow renewal.
"We have renewed them once before, and we were saying 'maybe' because it's our five-year anniversary this September. We've been through a lot."
Maintaining an upbeat attitude throughout her setbacks has been key.
"I think, at times like this, you figure out who you are," Giuliana says. "I'm able to look at the good things in life. When you're struggling in life, it's very easy to focus on the negative and only look at the things in your life that are going wrong, and I certainly did in the beginning. You can't help but do that, but after I went through the cycle of grief, which people do in this case, which is anger, denial, sadness and finally acceptance — once you go through it, you could either keep dwelling on the negative, or you could try to find the positive in your life and focus on that. That's what I choose to do."
She continues, "Yes, I've been through some tough things, but I have lots of positive things in my life, too. I have a job I love, I have friends I adore that make me laugh, I have a great husband and a wonderful family, so there's a lot to be thankful for, and a lot of things that keep me positive and keep me smiling every day. It's great, because all of those things are a great distraction from the negative things in life, so I've been speaking a lot to women's groups and young women in particular, on the weekend, and helping them to find the positive in their lives, because the more things you find in your life that are positive, and that you can be grateful for, the more positive things that come your way. I believe that, and I've seen that happen in my life, so I stay positive. The more I stay positive, the better news I keep getting, so it's a good way to be."
Congrats!
Pick up the OK! on newsstands now for more on Giuliana Rancic. The cover line is "Brad and Angie: Engaged!"