NEWS
Red Carpet Confidential: Oscar Winner Octavia Spencer Reveals The Secrets Behind Her 20 Lb. Weight Loss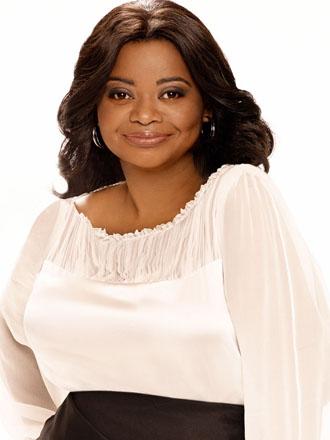 What a difference a year makes!
When Octavia Spencer won the Academy Award for Best Supporting Actress in 2012, her world opened up. Suddenly Steven Spielberg was calling, and she felt like she could accomplish anything.
One year later, she's proud to say she has dropped serious poundage with the help of the Sensa Weight-Loss System. The results will be on display Sunday when she returns to the Oscar stage as a presenter.
Article continues below advertisement
OK! GALLERY: MAJOR OSCAR FASHION MOMENTS OVER THE YEARS
"I've lost 20 lbs., but I don't have a pound goal," The Help actress tells me Thursday at the Waldorf-Astoria in NYC. "It's more to me about being health conscious, because I don't want to diet, but I know that I need to do things in moderation. "
She continues, "I just joined the 40s club, and I want to be around for another 50 or 60 years. The way to do that is to make sure you don't have the expansion in the middle, and that's why I'm taking this seriously, but I'm doing it at my own pace."
Article continues below advertisement
"It's easy," she says. "You have one choice: you can sprinkle and lose weight, or you can not sprinkle and not lose weight. laughs In layman's terms, that's how easy it is. I needed something that I could do, and not feel that I was restricted in any way.
Because once someone else makes a decision for you about what you can have and what you can't have, then you're at their power. "
She continues, "I wanted to be in control and say 'if I want to have that, I can have it.' It's all about helping with food portions. It lets you know when you've had enough to eat – it's wonderful."
OK! GALLERY: KELLY OSBOURNE'S 2013 GRAMMY AWARDS FASHION
Aside from Sensa, what are her weight-loss secrets?
"Dietwise, I eat what I normally eat. Exercise – once you start seeing results, then you're empowered, like 'oh, I want to walk a little bit more.' I had a personal trainer before Sensa, and seeing the results from using Sensa, I basically upped it a bit. Honestly, it's been that – using Sensa and exercising. Eating exactly what I want to eat, and that's being 100% honest."
Article continues below advertisement
For Octavia, her weekly workout routine consists of 3-4 days a week of one hour of cardio.
"Maybe 40 minutes of cardio and 20 minutes of strength training," she says. "I've gotten into Pilates. I'm trying to use my body's own resistance to make the muscles long and leaner."
OK! GALLERY: JENNIFER HUDSON'S STYLE AT SUNDANCE: THE BEST COZY-CHIC LOOKS
Of course, getting fit takes time.
"It's a slow process," she says. "I'm not trying to be a different weight. I want to be a different body type so that I'm not an apple. laughs I just want to be a pear! laughs"
Hm, what difference does it make having a personal trainer?
"I need to have a date with somebody — that I'm paying for — to keep me motivated," she says of her trainer, Patrick DeGeaux. "He's an amazing trainer because he's tough when he needs to be, but also a shoulder when I needed to be like 'I hate this.' He's good."
She adds, "If I see him twice a week, then I know that I'll do something at least a third time myself. "
In fact, getting a workout buddy is her top fitness tip.
"I think, if you can afford it, or even if you can't afford it, you can get a friend — it's good to do this sort of thing with a friend. Have a pal there to make sure you have a date — a commitment to meet someone."
Catch Octavia presenting at The Oscars, which begin Sunday at 7 p.m. ET on ABC.
What diet tip has helped you most? Tweet us @okmagazine.