NEWS
Red Carpet Confidential: Is 'Pretty Little Liars' Star Ashley Benson Dating 'Spring Breakers' Co-star James Franco?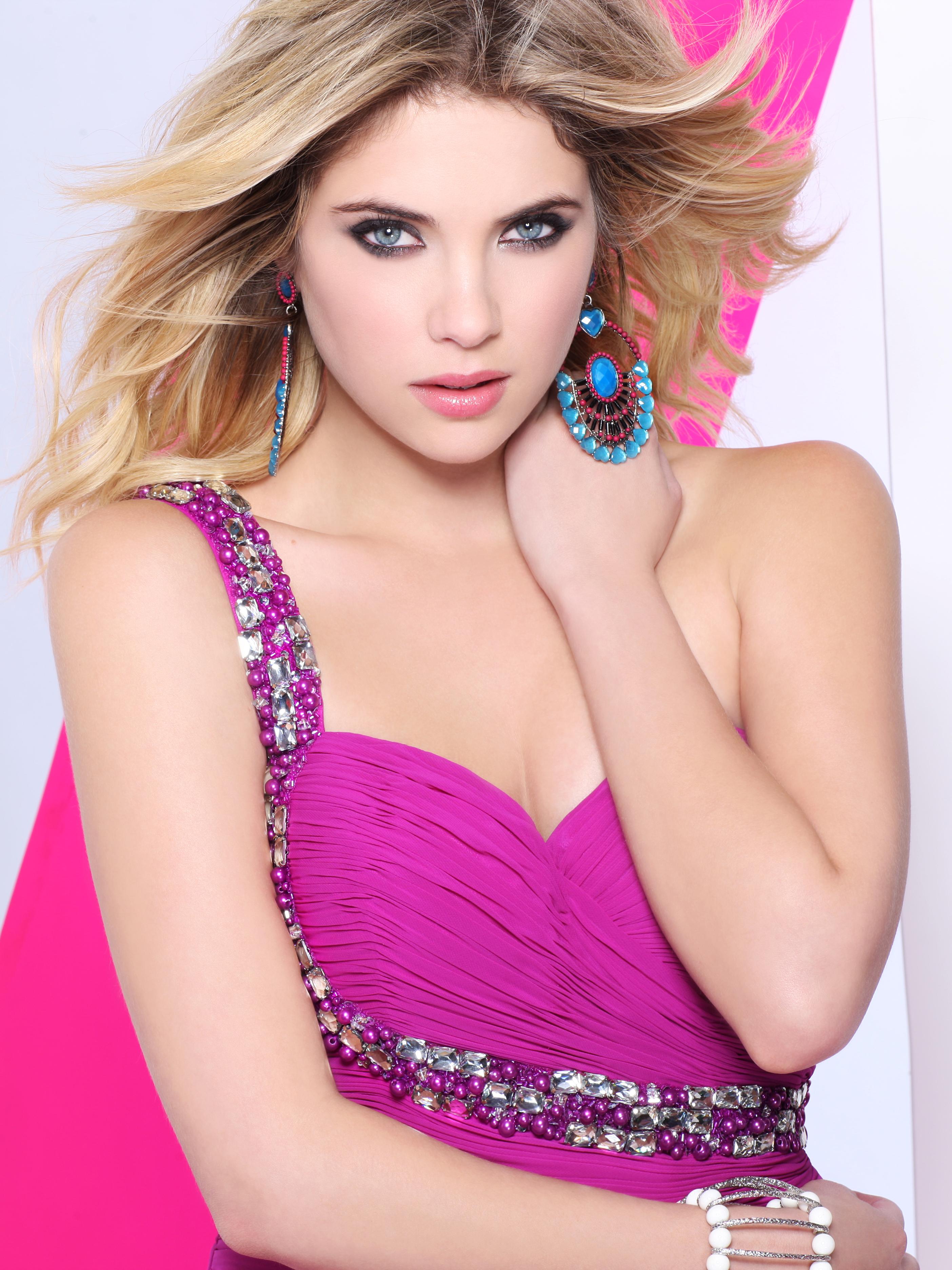 Ashley Benson isn't one to kiss and tell.
The Pretty Little Liars star, whose movie Spring Breakers opens this month, has a threesome with co-stars James Franco and Vanessa Hudgens in the comedic crime drama.
Hm, what is her relationship like with the 34-year-old actor now?
"James is awesome," the actress, 23, tells me this week during a Faviana fashion event in NYC. "We became super close after the movie. Yeah. He's a really good friend of mine."
Article continues below advertisement
For Ashley, James isn't the only game in town. She confesses to crushing on Johnny Depp.
"He's hot," she says with an easy laugh. "I've been in passing with him, and I can't say anything! If I saw him in his pirate costume, I think I'd die. I really would. I've been to every Pirates of the Caribbean premiere. I'm obsessed with them, and I love him. Literally, if he was in front of me, I'd be like 'ahhh! Huh. What do I do?'"
Article continues below advertisement
Being high-maintenance isn't Ashley's style in the dating department.
"Dinner and a movie is always good," she says. "You get to talk to each other and you get to watch a cool movie. And I love going to the movies."
OK! GALLERY: SEE ASHLEY BENSON AND HER DOG IN THE CUTEST CELEBRITY PETS!
Her requests are simple.
"They have to make me laugh," she says. "Yeah. Have a good personality. I get bored easily, so don't make me bored! They have to be silly. I don't like when they take themselves too seriously, because I definitely don't. I'm all over the place all the time."
Article continues below advertisement
Article continues below advertisement
For her upcoming date nights, Ashley will turn to Faviana.
"I've never been to prom, and it's a great line for prom, but also special occasions," she says. "They have Faviana and they have Faviana Glamour. Faviana Glamour is more sophisticated and mature. Faviana is the fun, young, flirty, sexy dresses. It's super fun. I think it's a fun way for me to experience prom in another way, and I think I'll help my fans pick out great dresses for their prom or any special occasion."
Who is Ashley's perfect match: James Franco, Johnny Depp or Ryan Gosling? Tweet us @OKMagazine.
Catch Ashley in Spring Breakers, which opens in select cities March 15 and nationwide March 22. And check out Faviana—Ashley is the face of the line!