NEWS
Red Carpet Confidential: 'Pretty Little Liars' Star Shay Mitchell Reveals The Truth Behind Her Name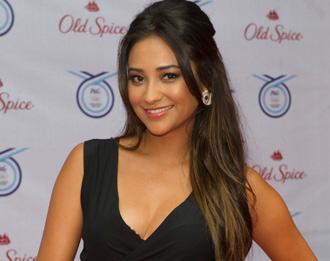 Pretty Little Liars star Shay Mitchell wasn't given her moniker at birth. She just made it up!
Turns out, her real first name is Shannon. (The last name is authentic.)
"When I was 15, 16, I was hosting at this restaurant that was a sports bar in Vancouver, and I would get uncomfortable saying my name to all these different people and these guys," the Canadian actress, 25, tells me during the Old Spice "Believe In Your Smellf" event held this week in L.A.
Article continues below advertisement
"I was walking with my mom down the street one day, and one of these guys was like 'Shannon!' and I was like 'he doesn't know me, he just knows me because I sat him one time.'"
OK! BLOGS: RED CARPET CONFIDENTIAL: THE WANTED'S CELEBRITY CRUSHES REVEALED!
To keep business and pleasure separate, she thought up a new title.
"I wanted a barrier, if you will, and so I thought if I were to change my name, especially when I was at work, that would separate me from who I really was," she explains. "It sounds weird and crazy, but I just started going by Shay. It made me feel a little bit better and there was a little bit of separation, because they didn't really know who I was."
The alternate name has other advantages, too.
"I also thought it was a really unique name, and it got me a minute extra in the audition room. It was a story I got to talk about with them, so any extra time I could have in an audition room to talk to the casting directors was a plus."
Catch Shay on Pretty Little Liars, which airs Tuesdays at 8 p.m. ET on ABC Family.