NEWS
Red Carpet Confidential: Rachael Ray Keeps Her Marriage Hot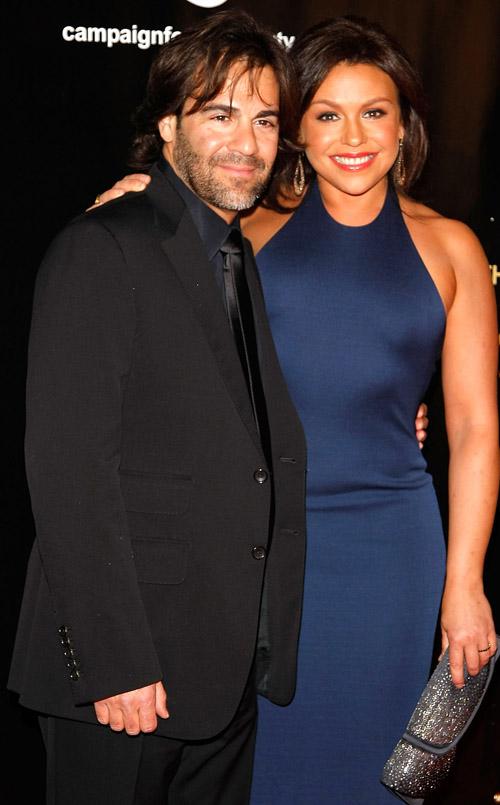 Rachael Ray and hubby John Cusimano never see the passion wane in their relationship.
The couple, who wed in 2005, agree that their favorite place to be together is in the bedroom, and secondly -- the kitchen.
Of course, after enjoying a nice meal in the kitchen, they make a beeline for the bedroom.
"We get to the bed as quick as possible thereafter," she tells me.
What is it about the kitchen that makes it a favorite?
Article continues below advertisement
"It's where the most sharing takes place," she says. "We love to cook together, and it's always the most used room in the homes that we grew up in, and certainly in our home."
John adds, "When we have friends over, we end up hanging out in the kitchen."
The daytime diva can't get enough of pastas, and she makes sure it's the healthy kind. "Pasta is my favorite food group," she says. "I've switched over to whole grain. It's full of fiber and protein."
Rachael admits the success of their union is due in part to her husband. "I married smartly a man that doesn't mind eating at any hour – night or day – and doesn't mind long hours," she says. "John doesn't mind eating dinner very late."
What's their secret to a happy marriage?
"Marry well," Rachael says. "Marry somebody that's flexible and has a great sense of humor."
John pipes up. "My wife's really hot. That helps."
She laughs, "You're sweet."
And, Rachael keeps her pets in the picture when settling in for the night, describing her ultimate favorite place to be together with her husband as "in bed with the dog."