NEWS
Red Carpet Confidential: 'Real Housewives of NYC' Star Alex McCord Remembers Cat Madge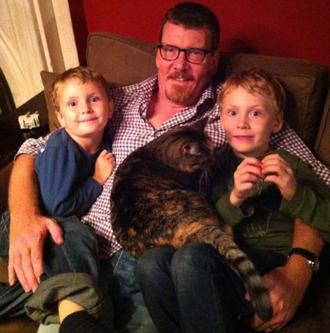 It has been a tough week for former Real Housewives of NYC star Alex McCord and her family, who are grieving the loss of their beloved cat, Madge, who was tragically hit by a car Wednesday.
I had the pleasure of meeting Madge last summer during the Christmas In July Pet Product Showcase at Intercontinental New York Barclay Hotel, where I marveled at her tranquility in an unpredictable public setting. Hubby Simon Van Kempen, and sons Francois, 8, and Johan, 6, kept the little one — who also appeared on the Bravo show — entertained.
Article continues below advertisement
While there, the lucky girl was gifted with a cat leash, which she used twice.
She was "perfectly happy to wear it," Alex tells me Friday.
Indeed, the past few days have been difficult.
"We have been talking about Madge, sharing stories and helping each other cope," Alex, 38, who stars in Cafe Mom's Coffee Shop Confessions, says. "As she made friends with nearly every human that came into our home, we've been letting our friends and family know, many of whom also had special relationships with her."
To deal with the loss, Alex looked to the Internet.
"Simon and I have gotten our information online, and we found a few good websites such as FabCats.org and For-the-Love-of-Cats.com. Googling 'cat grief' and 'feline bereavement' turned up many resources, most of which were very helpful."
What have they learned?
"Saying goodbye is very important, particularly with young children or other pets," she says. "We are particularly grateful for two things; our neighbor found her on the road and brought her body inside, and also that we have a garden in which we could bury her. Simon dug a proper grave for her, and we held a little service after the boys came home from school."
Article continues below advertisement
For the Brooklynites, the "docile, gregarious" feline was family.
"Madge was the friendliest and most outgoing cat I've ever had, and Simon and I have both been both life-long cat owners," she says. "When our boys were little, she would curl around their feet in bed and guard them, and was impervious to pokes and kicks."
She adds, "Little boys can be rough, and she let them carry her around and do whatever they wanted with her. When she had enough, she never lashed out but would run to me, or my husband Simon. She was content to sit for hours next to us in bed or on the couch."
OK! BLOGS: RED CARPET CONFIDENTIAL: CARRIE ANN INABA SAYS DANCING WITH THE STARS MADE HER FEEL 'EMPTY'
"Although she was mellow with people, she took no nonsense from other animals. Once, a raccoon wandered into the house and she chased it out. Another time, while filming Real Housewives, a cast member's dog barked at Madge, who stood her ground silently while puffing up to twice her size. The dog yelped and leapt onto the lap of its owner. It was hilarious, and we were just sorry it wasn't caught on film."
Article continues below advertisement
Plus, they loved to spoil her.
"She delighted in chewing holes in any plastic she could find, so we would let her pop bubble wrap with her teeth — a piece for her and two pieces for the kids. Also, she had a great time chasing a laser pointer."
The cat would sit beside Simon, who owns a social media business, while he played piano, and of course, the boys always had a good time with her.
"Almost every night at bedtime, Madge would come into Johan's room and snuggle next to him during story time. Johan would sometimes choose a story 'that Madge wanted to hear' as much as he did."
Will they get another cat?
"We won't get another cat anytime soon," Alex confesses. "Our research indicates that it's better to let at least six months go by, and we all need time to get used to not having Madge around. Erin, our other cat, has already become a bit warmer so we plan to let her be the alpha cat for a while."
During the Christmas in July event, Alex told me her cats liked to "roam around, hunt butterflies, birds and wildlife" in their fenced-in backyard, so Erin is surely missing her buddy.
How is she holding up?
"After her initial reaction of shock, Erin is alternating between hiding under the bed and clinging to us — neither of which are normal for her," Alex says. "She has also spent some time sitting on top of Madge's grave, and chases away any birds or squirrels that have come near the area."
Rest in peace, Madge. You are loved.
Catch Alex on her new Cafe Mom show, Coffee Shop Confessions, and check out their their bedding-and-bath company Aluxe Home. They delivered their first hotel orders this week.