NEWS
Red Carpet Confidential: Regis Philbin To Join 'Jersey Shore' Cast?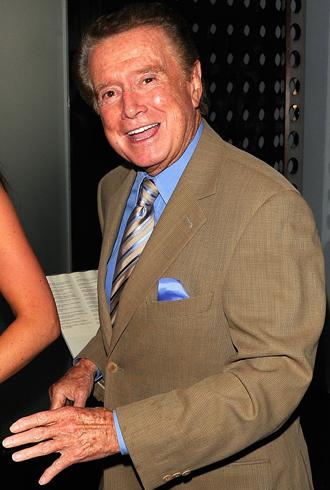 Don't cry for Regis Philbin, who is leaving Live tomorrow after 28 years. He may just jump to MTV's Jersey Shore!
"I'd like to join the cast of Jersey Shore, but only if I could have the nicknames of The Satisfaction or The Medication," the TV icon, 80, tells me during his tribute event held at Mohegan Sun in Uncasville, Conn. "No nicknames, no Regis."
He adds, "They've all got nicknames. This, That, The This, The That. I said 'Wait a minute. The Situation? I'll be The Satisfaction. And then finally the wife gets involved, and from there it became The Medication."
Article continues below advertisement
"I don't have any plans. I really don't. I've got to go out and sell my book that I've written. I've got three weeks on the road, going to the bookstores, and then there's Christmas and Happy New Year. I've got a couple of these gigs coming up."
OK!'s RED CARPET CONFIDENTIAL: SUSAN LUCCI GETS OUT THE VOTE FOR DWTS J.R. MARTINEZ
Before he ends his stint on the show, he has a final wish.
"I'd love to have Barbra Streisand, but she's unavailable."
MORE ON:
Red Carpet Confidential
Article continues below advertisement
As for the identity of the lucky star who will fill his seat?
"Oh, I have no idea," he tells me. "That's going to be a very particular situation that they're all going to have to discuss, and Kelly's going to have to sit there and work with them a couple of days and see if there's something there, because it's very delicate. That's a show where it's all ad-libbed. You've got to be patient and let the other person, your other co-host – do a little talking, and so on."