NEWS
Red Carpet Confidential: Maksim Chmerkovskiy Can't Wait To Become A Dad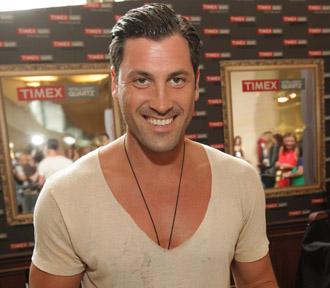 The pitter-patter of little feet is something Maksim Chmerkovskiy longs to experience — but first, he has to make sure he has the right girl!
"I would love to be a dad," the Dancing With The Stars hoofer, 32, wistfully tells me this week during the Timex Intelligent Quartz Collection Pop-Up Barbershop at The Shops at North Bridge in Chicago. "For the longest time, I've wanted kids, but you have to have the right setup, right?"
Article continues below advertisement
He continues, "I mean, my mom says always 'to have a kid is the easiest part — it's everything afterwards that you have to deal with.' I'm ready — I just want to make sure that everything is set up the right way, and my child is going to be born into an environment that is going to be amazing."
OK! BLOGS: RED CARPET CONFIDENTIAL: CARRIE ANN INABA SAYS DWTS MADE HER FEEL 'EMPTY'
Of course, the Ukrainian-born heartthrob admits he's still "working on the who part." Weeks ago, Maksim confirmed his relationship with Aussie DWTS costar Peta Murgatroyd, 30, but this time those questions are off-limits. He's got a thing for co-stars: His engagement to fellow DWTS costar Karina Smirnoff ended in 2009.
"I look for someone who shares some of my beliefs," he says. "It's very hard nowadays, because we grew up with a lot of old, traditional set of morals, and nowadays people are different. I look for someone whose upbringing was somewhat similar to mine because they can understand me – love for the family, and everything else. You see someone's relationship with their parents, and you realize what that person's going to be like as a parent. I look for that, I look for someone who's fun, who wants to work, who has goals and who's going towards the goals but is not all about career -- someone who wants to work a little harder on being able to be a career person and a family person."
Article continues below advertisement
Fortunately, Maksim has a great role model in his own dad Aleksandr, who has shown him what it takes to be a great father. He moved his brood to the U.S. in 1994.
"Family means everything to my brother Val and I," he says. "We're taking the whole mama's boy and papa's boy to a whole new level, but I think it really is important."
One way he grew close to his dad is by working together at a dance studio .
Article continues below advertisement
"I spent my entire childhood with my father," he says. "I started my first business at 16, and we became business partners. He's not just a mentor and somebody that I look up to, but he's also someone whom I took work ethic and determination and all of those qualities from."
He continues, "It's been amazing that we maintain a father-son relationship well having literally been business partners for the last eighteen years of my life. If you ask my brother, he's everything to us. He's the most amazing dad that one can have, and we're incredibly grateful for everything that he and mom did for us."
OK! BLOGS: RED CARPET CONFIDENTIAL: MARIA MENOUNOS WILL 'STALK' DEREK HOUGH AFTER DWTS
How did they maintain a good relationship?
"We grew up with a lot of respect towards our parents," Maks says. "It was always instilled from an early age. It's funny because I would be in the studio and I would take care of all the dancing stuff, and he'd take care of all the logistics — payments and stuff like that. We'd have that business/partner relationship, and then we'd literally come home at 10:00, and we just came back from work, where I'm the boss and he's the boss, and we have this great business relationship. When we get home and get out of the car, he'd say 'did you do your homework?' Without blinking, we switched roles. He'd become the father, and I would become the son."
He continues, "I don't know how they did it, but when I have my kids, I'll have them as an example to show how it is possible, because nowadays I think a lot of families lose that line of respect for their parents, and kids get in trouble and everything else. It's hard to be a parent!"
Maksim shopped for the perfect timepiece for his dad when the Timex Intelligent Quartz Collection hosted a vintage Pop-Up Barbershop at The Shops at North Bridge in Chicago this Father's Day weekend. Men treated themselves to fresh summer 'dos and browsed the latest Timex Intelligent Quartz watches.