NEWS
Red Carpet Confidential: Samantha Harris May Add A Boy To Her Brood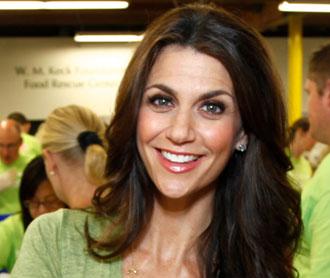 There could be a baby boy in the future of TV host Samantha Harris.
Although the married mom feels blessed with her two daughters, Josselyn, 4, and Hillary, 16 months, an expansion could take place.
"I came from a two kid family, and so did my husband Michael," she tells me this week before launching Nestle Juicy Juice and Feeding America's Fruit For All Project at the Los Angeles Regional Food Bank. "I always wanted to make sure that our first daughter had a sibling. I feel very, very lucky to have two healthy children. It's a scary thing, being pregnant. You're worrying every second if your baby's going to be healthy. The second time around, I had more scares and more reasons to worry than I did the first time around, just because I was worried in general."
Article continues below advertisement
She adds, "I'm not sure if we'll go down that path again, but then again, we don't have a boy, so you never know what's going to happen. laughs"
OK! BLOGS: RED CARPET CONFIDENTIAL: BUSY PHILIPPS HATES SPONGEBOB SQUAREPANTS
For now, she's happy she could give her oldest daughter Josselyn a lil' sister in Hillary.
"I think it's important to grow up with a sibling, if you have that opportunity," says Samantha, who has major reality news coming this month. "Not all families do, but I love that I have an older sister that I can share childhood experiences with, that grew up in the same house, with the same set of rules. It's interesting to see how we both turned out as we're both similar and different. But she's a best friend that I know will be there for me forever, no matter what happens in my life. Friends comes and go — your family is always your family. I thought it was very important to my husband and I — it was important to both of us — to make sure that Josselyn had a sibling — at least one sibling, if not more."
What's great about having two kids?
"Two is a great number because it's manageable," she says. "With two parents, with two kids with different activities, one parent can cover each activity so that you don't have a child that feels left out, with no parents there to rally them on. When you're traveling, it's a heck of a lot easier to have one parent carry each kid when they're little. laughs For all those reasons, it makes it easier, too. Only two college tuitions sounds good to me. laughs"
Article continues below advertisement
OK! BLOGS: RED CARPET CONFIDENTIAL: LISA LOEB FEELS 'LUCKY' TO BE A MOM LATER IN LIFE
Of course, being a mom to two girls is a joy.
"It's the most fun thing ever," she confesses. "First of all, Josselyn had so many great, fun dresses and clothes that we had as hand-me-downs from my sister's daughter, so it's great that I get to see them resurface on our little one, Hillary, who's now 16 months, and they're able to share in that."
She continues, "Just the girly-girl things that sisters get to share in. They hold hands and dance together. Hillary's just trying to do everything that her big sister is doing, so whether it's going to gymnastics with Josselyn and having Hillary swing on the bars as well, to play dress-up at home, where Hillary will put a purse on and hand Josselyn a purse to play with, too. Josselyn will grab a wand, and Hillary will grab a wand for herself so that they can pretend that they're fairy princesses or whatever they're pretending to be, so that part is fun. Sharing clothes and playing dress up - we're trying to get them involved in sports and athletics so that they can be well-rounded."
Article continues below advertisement
One lesson she hopes to instill in her kids is the importance of eating fruits and vegetables.
"Our daughters understand that they need to be putting something that is nutritious into their bodies. My daughter, at age 4, already understands what's healthy and what's not. She'll say 'mommy, I'm going to have strawberries. It's healthy – it's going to help my brain grow.' She eats whole-grain cereals for breakfast, she eats lots of whole fruit."
For Samantha, the value of fruits and vegetables cannot be underestimated.
"My daughter eats more than her fair share of fresh fruit, and I'm so grateful that I can give her those nutrients, because as a child who's growing, those whole fruits are essential to providing them with the minerals they need for brain development – cognitive and physical development, behavioral development. When you look at the statistic that says more than 16 million American children are food insecure and don't necessarily know where their next meal is going to come from, it breaks your heart as a parent."
Article continues below advertisement
She continues, "The Fruit For All Project puts whole fruit, fresh fruit, in the hands and mouths of families who need it the most, because brain development, cognitive development, behavioral development, doesn't happen without the proper nutrients. If you think about a kid in school, who didn't have breakfast that morning, or maybe had a piece of white toast - what's going to happen that morning when they're sitting in the classroom? Their stomach's going to be growling, they're going to be hungry. Are they going to focus on what the teacher's saying, or are they going to be focusing on their own basic instincts – their basic needs – which is hunger and starvation? That's what they're going to be focused on, and that is the truth. Studies show that kids who are under-nourished perform poorly in school, and as they get older, they become unproductive citizens. That's not what we need, but we can help."
She also teaches her girls to give back.
"I've brought Josselyn with me to the local area food banks that I volunteer at, and she's helped do everything from sort and put food on the shelves, to bag the food for those in need that come through the food pantry for their supply. It's been special to see that she wants to help."
Samantha supports Juicy Juice and Feeding America's Fruit For All Project, which is designed to help alleviate summertime childhood hunger by delivering up to 35 million pieces of fresh fruit to children and families at risk of hunger nationwide. For every time Juicy Juice is purchased now through August 31, one piece of fruit will be provided to a child and family in need. To learn more, visit fruitforallproject.com.