NEWS
Red Carpet Confidential: The Relationship Advice Taylor Swift Has for Tourmate Austin Mahone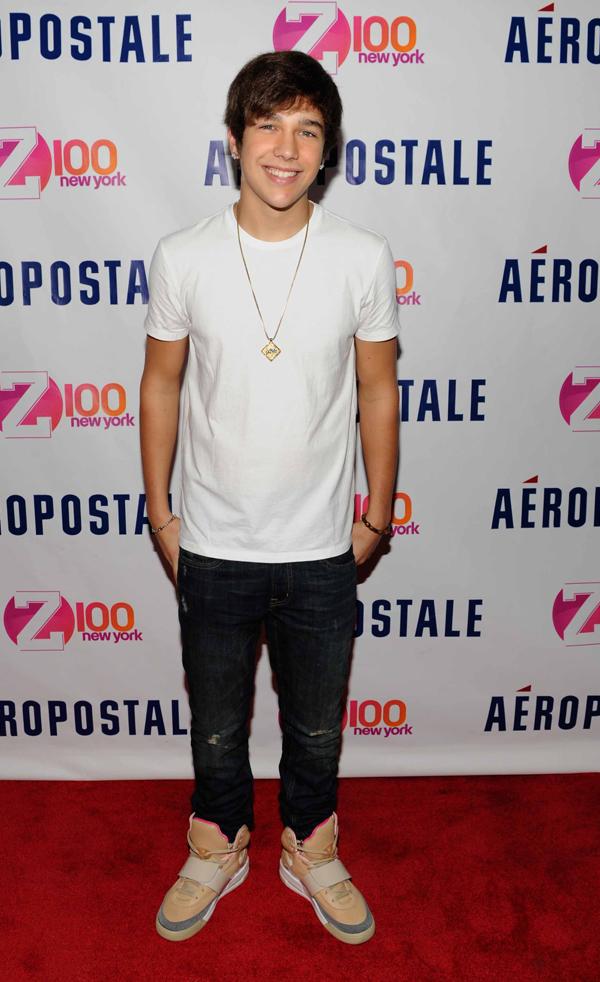 Austin Mahone splits his jeans during soundcheck for the Z100 Jingle Ball Kickoff Party held Friday at Aeropostale in NYC.
"It was embarrassing," the teen singing sensation, who performs his hits "Just A Friend" and "Say Somethin'," tells me moments after the incident. "I was demonstrating a dance move, I put my leg up, and my jeans split in half. I had to get Aeropostale jeans."
OK! Exclusive: How To Get Austin Mahone's Attention on Twitter
Article continues below advertisement
Did that same thing ever happen to him while he's performing in concert, say, like when he was opening for Taylor Swift this summer?
"No! I'm happy it didn't happen in front of a bunch of people while I was performing. It's all good."
For Austin, 17, whose debut album will be released this winter, warming up the crowd for the Grammy-winning singer had its perks.
"She's gorgeous," he says. "She's super talented, nice, she puts on an amazing, two-hour show. I don't get bored watching it. I can learn a lot from that. She's incredible."
Plus, the up-and-coming star got to drill Taylor for dating advice.
Photos: Taylor Swift, Austin Mahone and More Stars Hang out at the VMAs
"She told me to find a good girl that's not crazy, and has morals."
Wise words!
According to reports, Austin is rumored to be dating Fifth Harmony's Camila Cabelo, but he wants to set the record straight.
"I met her once at the Arthur Ashe event in August," he says. "She's a cool girl, very nice, but we're not dating. I'm single. "
Article continues below advertisement
Mysteriously, he goes silent when asked if they have plans to get together in the future.
Photos: 16 Best Celeb Shirtless Selfies
Until then, he is ready to mingle. (It's a good thing—former Real Housewives of New York star Kelly Bensimon's tween daughter, Teddy is on hand to meet him.)
"I like a girl that's shorter than me, because when she wears heels, I don't want her to tower over me, and me look all short," he says. "Also, my mom would have to like her because my mom has been there with me. Since the start, it's been me and her, so it's important."
One girl who has caught his eye is Justin Bieber's ex Selena Gomez, whom he last saw at the MTV Video Music Awards the day after he met Fifth Harmony.
"She's a down-to-earth, humble girl, talented. She's just like everyone else."
As for the Bieber comparisons, he says, "I'm trying to make a name for myself."
OK! News: Austin Mahone And Other Stars Who Failed Their Driving Tests
Of course, when I saw Austin last in July, he mentioned he crushed on the "amazing" Mila Kunis.
Article continues below advertisement
But that's not all.
"Betty White is gorgeous—beautiful."
Ha!
One thing Betty and other Mahomies can appreciate is that his McDonald's commercials are always on TV.
youtube=https://www.youtube.com/watch?v=xzT40P4cAUM&w=480&h=360
What perks does he receive from the fast-food joint?
Photos: Austin Mahone And Other Selfies Taken for OK!
"I don't get free McDonald's for life, but I should probably bring that up. I order a cheeseburger with just cheese, a large fry, and sweet tea. Their sweet tea is amazing!"
Here's a photo of Austin and I during the event. (At 5'6," I'm shorter than him—whew!)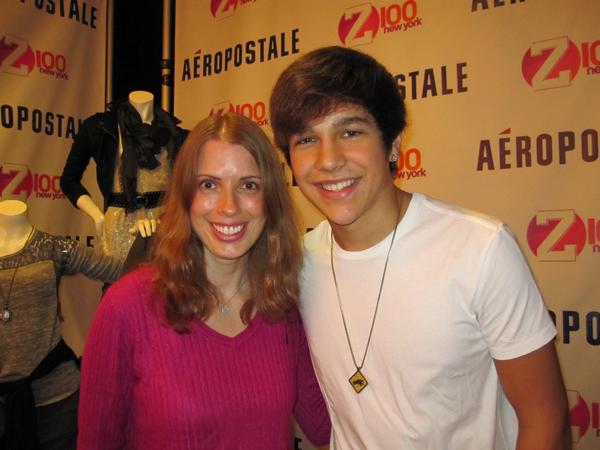 Catch Austin performing at Z100 Jingle Ball in NYC December 13.  Miley Cyrus, Robin Thicke, Pitbull, Enrique Iglesias, Fall Out Boy, Macklemore and Ryan Lewis, Selena Gomez, Fifth Harmony, Ariana Grande and Jason Derulo will also be performing! What do you think of Austin? Which young celeb should he date? Tweet us @OKMagazine.