NEWS
Red Carpet Confidential: Tony Lucca Reflects on His 'Unforgettable' Experience on 'The Voice'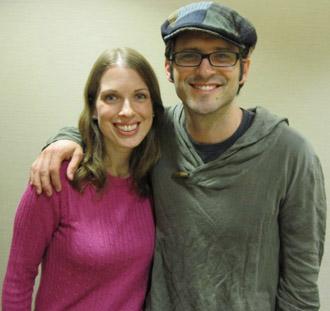 Now that Tony Lucca has made it to the finale on The Voice, he has the opportunity to score big time in the last round, facing off against fellow final four contestants Juliet Simms, Chris Mann and Jermaine Paul.
As the winner or a runner-up, Tony walks away from The Voice with a higher profile than ever.
"I have no regrets about appearing on The Voice," he tells me Friday. "It's been more than the catalyst I'd say my career has been lacking. This has been truly unforgettable."
Article continues below advertisement
He continues, "I'm super proud of the choices I made, the performances I gave and simply can't say enough about my friends, family and fans that helped get me to this point in the competition."
OK! VIDEO: WATCH TONY LUCCA CHAT WITH OK! ABOUT CHRISTINA AGUILERA, THE MICKEY MOUSE CLUB & MORE
Either way, the singer-songwriter, 36, sees "a ton of hard work" in his future.
Tony stopped by the OK! offices in February, toting his guitar and sharing memories of his time on The Mickey Mouse Club. (We go way back to 1993 — I have the pix to prove it!)
Looking back to the beginning of the season on The Voice, the married father of two would tell himself to "be brave."
Indeed, the pressure must be intense. How does he cope?
"The mantra is 'believe in your performance the best you can,'" he says.
Becoming the final member remaining on Team Adam is an honor he holds dear.
What would he say to the Maroon 5 frontman?
"I'm beyond honored to have been your 'last man standing' this season," Tony says. "You've helped me realize the strongest version of myself, and I look forward to sharing this newfound confidence with my fans from here on out. Thank you for that."
Article continues below advertisement
OK! VIDEO: WATCH TONY LUCCA OF THE VOICE SING AN ACOUSTIC VERSION OF DEATH OF ME
And even though he's had his ups and downs with former Mouseketeer pal Christina Aguilera (who called him "one-dimensional" and suggested he form a Britney Spears cover band if The Voice doesn't work out), he remains gracious.
"Thank you," he says he would tell Christina.
For Tony, the criticism from the Grammy-winning diva was all part of the show — and helped his performance grow.
"The highlight was when Adam sat me down and, via an unforgettable pep talk about the power of taking well-calculated risks, convinced me that ...Baby One More Time was the perfect song for me to sing at that particular time in the contest."
Psst: He admits he hasn't heard from Britney, who once crushed on him, during his time on the show.
"Not yet," he says. "I don't suppose I will, either. At least not publicly."
Article continues below advertisement
OK! BLOGS: RED CARPET CONFIDENTIAL: TONY LUCCA SPURS MICKEY MOUSE CLUB REUNION!
But the saddest moments of his experience on The Voice haven't involved Christina's jabs.
"The low point was saying goodbye to a few of my closer friends on the show," he says. "Watching people go sucks."
What's his relationship like with the final four?
"Oddly enough, these three particular contestants are three that I unfortunately didn't get to spend much time with throughout the season," he says. "That said, it's clearly been like the 'mutual admiration society' between the four of us, if even from a distance."
Catch Tony in the finals of The Voice on NBC. Watch him perform tonight at 8 p.m. E.T., vote hard for him and finally tune in to see the results on Tuesday at 9 p.m. PT. Stick with him throughout — and after — the show by following him on Twitter @luccadoes.
West Coasters, want to get in on the action? The Mickey Mouse Club gang is holding a Voice finals viewing party in celebration of Tony at La Fonda Supper Club in L.A. beginning Tuesday at 4 p.m. PT. Hosted by Dale Godboldo, Jennifer McGill and Rhona Bennett will perform. Additional Mouseketeers including The Party's Deedee Magno; Lindsey Alley, Marc Worden, Terra McNair, TJ Fantini and Roque Herring will also attend. Plus, you never know who else might show up. It's the place to be for MMC fans!
Tony, may the force be with you. We want to see you win it!