NEWS
Red Carpet Confidential: Vanilla Ice Dishes Home Renovation Tips for Every Budget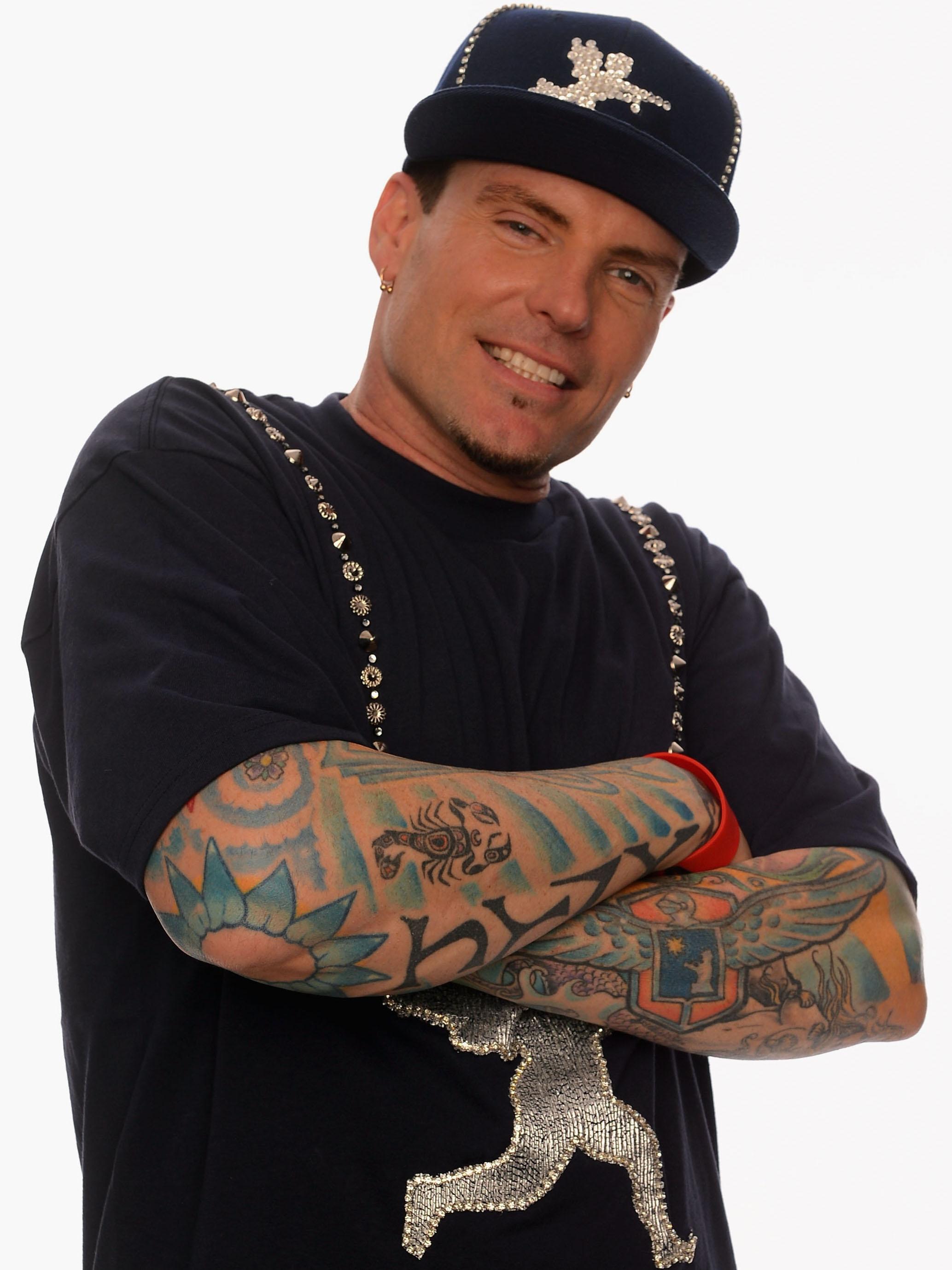 Although Vanilla Ice made his name with the 1991 single Ice Ice Baby, he made his fortune flipping houses.
"I started off investing in real estate back in the day 18 years ago," the man born Robert Van Winkle, whose season finale of The Vanilla Ice Project airs tonight at 10 p.m. ET on DIY Network, tells me. "I actually bought a lot of homes. When I was 16, I wrote Ice Ice Baby, so I went and bought homes because I was constantly moving from New York to L.A. to back to Miami. I figured let me get a house in each one of them, because when I go there to work, I'll have a place to stay."
Article continues below advertisement
Next up came the creative side three years later.
"I had a house on Star Island Florida that I had decorated by professionals, and when you're young, it's cool, because I had a staircase that was acrylic and had fish swimming in each staircase," he says. "It was crazy. I had red rooms, purple rooms, green rooms, yellow —everything was crazy colors, because in Miami, it's art deco, so they went art deco. That's very colorful.
Article continues below advertisement
He continues, "I basically said 'I hate this.' It's a 'wow' factor, but I felt like I was living in a nightclub. It was just not a home feeling. It didn't feel comfortable."
OK! GALLERY: WANNA SEE KIM KARDASHIAN'S NEW $9 MILLION LOVE NEST?
That's when inspiration struck.
"I said, 'instead of hiring decorators, I'm going to design this myself.' So I did, and it took me about a year-and-a-half, but I did it. I started looking through magazines and online and everything, about these different designer touches and how to make it feel homey. I found out about earth-tone colors, throw pillows and fireplaces to make it nice, warm and cozy like a home, so when you come home, you feel like you're at a home—not at a nightclub."
He adds, "It turned out amazing. That was when I got the bug. I was like 'oh my God, I love this. This is great.'"
Still, the married father of two, 45, recognizes not everyone is a millionaire, and dishes up his home renovation tips for those operating on a smaller budget.
"It depends on who you are and how concerned you are with your budget," he explains. "It also depends on if you're into it for investment purposes or personal purposes. Personal purposes, it shouldn't matter. It should go as high as your budget will allow."
Article continues below advertisement
OK! GALLERY: CHECK OUT CHRISTINA AGUILERA'S NEW $10M LUXURY MANSION AND HER NEW NEIGHBOR
How about investment purposes?
"You want to check the comps, which is what you have around the neighborhood—homes that are in the neighborhood within a mile radius. Homes that have the same square footage as you have and the same size lot you have. You want to do comparisons, and stay in the ballpark of that."
Either way, he offers cost-saving decorating tips.
"There are some ways you can spruce up a house more economically by focusing on certain little things—like reasonably spending a lot of money on simple things like door handles and cabinet handles instead of redoing the entire kitchen," he says. "You just might want to resurface it, put a counter top, and reface it. That will come to about a quarter of what it will cost you to build the whole new kitchen from scratch."
Article continues below advertisement
OK! GALLERY: EMMA STONE AND ANDREW GARFIELD BUY A HOUSE: SIX TIPS FOR COHABITATING WE LEARNED FROM HOLLYWOOD
Of course, he can go bigger with more cash, and he does just that in his own home. His signatures? Smart house technology with a mix of feng shui.
"I use my gut," he says with a laugh. "It tells me everything I need to know."
For Robert, operating his tricked-out home is simple.
"I don't have a bunch of remote controls, but I can control any TV in my house with my telephone. I can control the drapes, I can control the swimming pool, I can control the lights inside, the lights outside—the entire house has all electric drapes. I don't like pulling strings anymore or turning blinds shut and open. It's all a thing of the past."
He adds, "Step into the future—that's what I'm all about. That's my favorite things about homes —showcasing the future, and state-of-the-art technology in homes, because it's fun—it's cool. You pull out your phone when you're showing people, and go 'watch this. I'm going to make the waterfall come on.'"
OK! GALLERY: FROM 'REAL HOUSEWIVES' TO ROSEWOOD, OUR 7 FAVORITE TV CRIBS
In fact, the power to control his own water park is also included on his phone.
Article continues below advertisement
"I have a lazy river around my backyard in my house and I go 'watch this.' I can set it up to two miles an hour, and you can sit there with a pina colada and float around this vast landscape. It goes around this two-acre piece of landscaping."
He continues, "I can sit back and I can sit there on my phone, and make it go faster or slower, turn the lights on, the waterfalls—it's cool. You can turn all your TVs on or off, up or down, you never have to look for the remote control."
Article continues below advertisement
Hm, what's his favorite feature of his estate?
"I've got the world's first IMAX Theater," he beams. "The drapes shut down and the lights change. The entire ceiling has thousands of fiber-optic lights in it that twinkle and make stars. There's a 200-inch screen in there with an amazing high-def picture quality that will blow you away. We can put 3D on, and watch The Avengers or dim the lights and watch The Notebook. It's the coolest thing—you've got your own theater there, a popcorn machine, and the lights."
He continues, "There was a lot of work that went into it, so that's why I appreciate it the most. laughs I work very hard."
OK! GALLERY: WE WOULD FREAK OUT IF BRITNEY SPEARS DATED ANY OF THESE EIGHT PEOPLE
Gaining home-makeover knowledge is one way viewers benefit from watching The Vanilla Ice Project. Turns out, he can get a television picture to look better than ever.
"Everybody has a flat-screen TV now, but they're wondering why it never looks as good as it does on the showroom floor," he says. "It's because they don't have a high-def signal coming through it, so I'll run the whole smart house where you can control the whole house with your iPhone—with your smartphone. You can shut your drapes, you can turn your TV channels, but I have to run this cat 6 wire through the whole house, because most people are familiar with this wire called coaxial. Coaxial is a thing of the past."
Article continues below advertisement
He continues, "We rip all of the coaxial out of the house. We don't use that anymore, because you need a good signal to get to those TVs in hi-def, to make it look like the way it does in the showrooms. If you get a TV and you plug it into the signal that you used your old TV with, it's going to look the same. It's not going to look any better, and you're going to be like 'gosh, I thought this TV was better,' but it's not. It's the signal that's coming to it, so I focus a lot on digital signals, and making a smart house cool."
He adds, "What this show does is it inspires them to change their mind frame and say 'I'm going to live here for 30 years. My kids are going to run up and down these streets. I'm going to change my backslash. I don't care what my house is worth. I'm going to make it like the Vanilla Ice Project! laughs'"
Catch the season finale of The Vanilla Ice Project, which airs tonight at 10 p.m. ET on DIY Network. Watch for his next reality show, Vanilla Ice Goes Amish, which debuts on DIY Network later this year.