NEWS
Red Carpet Confidential: Why Alexa Chung Is Sad She Missed Out on Keg Parties and Going to College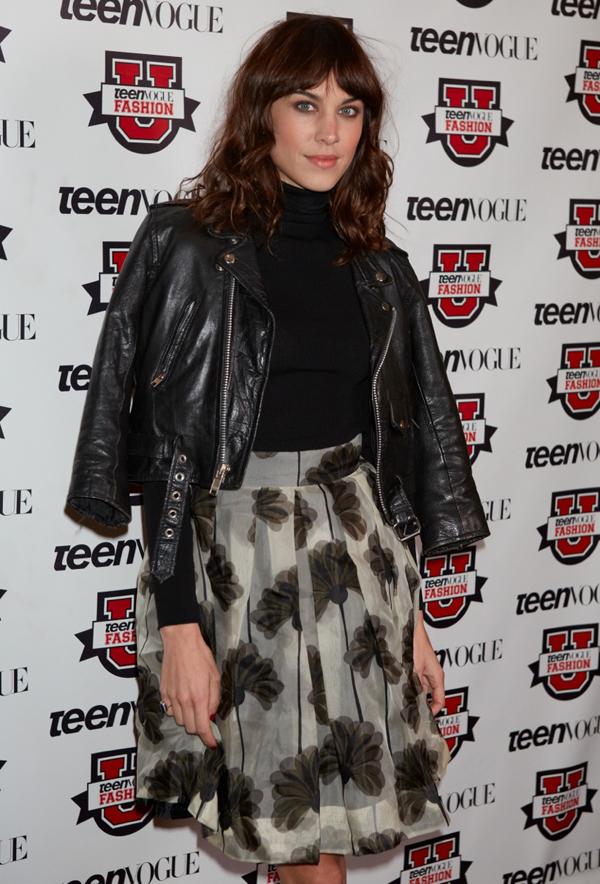 Alexa Chung doesn't mince words Saturday during Teen Vogue's Fashion University at NYC's Hudson Theatre.
The British model-turned-TV presenter, 29, jokingly exclaims "cocaine!" when an audience member asks what's something she'd like to try that she hasn't yet, before saying she'd "like to do more designing."
OK! News: Gorgeous Twitter Pics from Kelly Clarkson's Wedding
And that's precisely why her fans love her.
Article continues below advertisement
They can trust her to keep it real, like she does in her witty style and beauty book, It, which hits shelves October 29.
After being discovered at a music festival in England at 16, Alexa went on to model, then become an MTV personality and ultimately, a fashion icon.
Although she regrets having never attended college, it's not for the reasons one might expect.
"I do, in the sense that I think that would have been a fun experience to be among people my age," Alexa says. "When people reminisce about their college years, they say 'we got a keg.' I'm like 'I don't even know what a keg is.'"
She adds, "I do feel as if I've missed out. I would like to have a proper education in literature. But again, I managed to write for Vogue, without getting a degree. jokes I guess they're quite lax these days."
Article continues below advertisement
Still, she sees the bright side of skipping college.
"I think it gave me a head start in the sense that I didn't spend three years doing theoretical things, but I spent those three years actively being involved in a photo shoot or on a set," she says. "It was also actually quite a drive because I felt like I was lacking in myself, especially when I was modeling, because people would talk to me like I was incredibly stupid and couldn't understand English."
MORE ON:
Red Carpet Confidential
Instead, she learned to quench her desire for information any way she could.
Photos: Kim Kardashian's Beauty Evolution
"It gave me the drive to want to educate myself, so I was always reading when I was traveling, and I was always asking questions. I still do. I have a lot of musician friends. That's not something I'm proficient in, but I love asking about the recording process and mixing stuff and which pedal will get that sound. I think just having a natural curiosity for discovering information as opposed to a formal education. I take something from every day, from different people."
It, by Alexa Chung, hits stores October 29. Do you think it's good or bad that she missed out on college? Tweet us @OKMagazine.