NEWS
Red Carpet Confidential: Why Ali Fedotowsky Can't Settle Down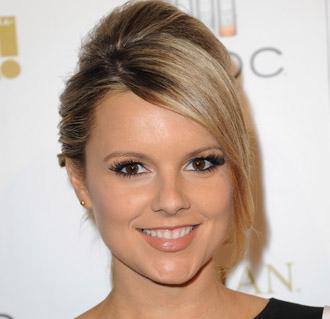 Judging Sunday's Miss USA pageant in Las Vegas caps off a whirlwind week for Ali Fedotowsky, whose hectic schedule saw her jetting back and forth across time zones.
According to the former Bachelorette, her week began Tuesday in L.A., before she headed to Orlando to film her irresistible NBC travel show 1st Look. On Thursday, she returned to L.A., and now she's off to Las Vegas to begin the Miss USA festivities.
Article continues below advertisement
No big deal — it's just business as usual.
"With 1st Look, my schedule is always like this," she tells me. "It's always an adventure!"
Taking a position as a judge during the Miss USA pageant is an honor, and a duty she takes seriously.
"I always watched Miss USA," she says. "When they asked me to do it, I was so shocked because this is something I'd grown up watching. As a little girl, I watched Miss USA, I always watched it and enjoy watching it. That I get to be part of it is really, for me, out of everything I've gotten to do, and out of all the wonderful opportunities and experiences I've been given since the Bachelorette, I feel like this is the 'oh my gosh' moment for me. Like 'wow, I get to be there and be a part of it,' so I'm pretty thrilled about that."
OK! BLOGS: RED CARPET CONFIDENTIAL: BACHELORETTE ASHLEY HEBERT SHOWS OFF REALITY-STAR SISTER
For Ali, 27, one compromise she's had to make is living a jet-set lifestyle that can get in the way of settling down. After all, 1st Look has her on-the-go year-round, she says. No hiatus here!
"My dating life is nonexistent," she says. "Literally nonexistent, and I wish that wasn't the case. Literally, at this point, I've been single for awhile now, I'm working really hard, traveling so much – I really don't have time to date, but I keep hoping that when I'm out on one of my shoots for my show that I'll meet somebody, but it has not happened. If anyone has any suggestions or wants to set me up on a blind date, I'm totally in. laughs"
Article continues below advertisement
Still, she feels that 1st Look can increase her chances of finding true love. Although she ended her engagement to Roberto Martinez in November, after accepting his proposal on The Bachelorette in 2010, now she's ready to mingle.
"Honestly, I feel like the travel is opening up my options laughs because right now, if I just lived in L.A., I only would have the people who are in L.A."
She has a point.
"I used to study relationships when I was in college, so I know that the biggest factor for who you end up with is geographical location – someone who lives close to you," Ali explains. "That's the biggest factor of who you'll end up with. It sounds so simple that it doesn't make sense, but you bump into people where you are. That's why it's the biggest factor. If you don't live in Florida, the chances are, you're not going to end up in Florida. You meet the people who live around you, and you start dating the people who live around you. If you live in Texas, the chances that you're going to marry somebody from Texas, because that's where you live — that's where you're probably going to meet somebody. That's really the reason."
MORE ON:
Red Carpet Confidential
Article continues below advertisement
She considers the bright side.
"I'm like 'well, I'm everywhere. I'm in Chicago, I'm in Miami, I'm in NYC, I'm in L.A., I'm in San Francisco.' I really just opened up my odds. laughs And I go to the cities so often — especially New York and Chicago — if I met someone in either one of those cities, it would be so easy to see them a lot in the beginning, and then if it got serious, I would make a decision, like 'maybe you should move to L.A.' or I'll should move there. But I'll cross that bridge when I get there."
Of course, she sees the downside of the gig hindering her love life, too.
"In the same breath, it does make it hard because I will be gone. It will be hard if I met somebody because I wouldn't be able to be around all the time. I'm hoping the next relationship I get in is the last relationship I get in. If that's the case, I would hope that that relationship is strong enough that we would be able to work through it. I always say 'if Giuliana and Bill Rancic lived apart in L.A. and Chicago for years …' They make it work. You make it work. When you have a solid relationship like they do, you just make it work."
Article continues below advertisement
Perhaps Giuliana can introduce Ali to her celebrity crush Andy Samberg?
"I think he's the total package," she says. "He's funny. I like a guy who is smart and funny, therefore witty, because you can't be witty if you're not smart and funny — you have to have both those things. You've got to be able to keep me on my toes and keep me laughing."
She adds, "I don't know him personally, but from what I can see of him, he's my type. I have a thing for Jewish guys. I don't know why — most of my friends who are Jewish are really funny and witty. They're funny, witty people, and I've always liked Jewish guys. Andy's funny, he's got that little Jewish 'fro laughs. I think someone needs to set me up with him as soon as possible."
Catch Ali judging the Miss USA pageant alongside fellow singles Joe Jonas and Rob Kardashian on Sunday at 9 p.m. ET on NBC.