NEWS
Red Carpet Confidential: Why 'Biggest Loser' Host Alison Sweeney Shuns Fast Food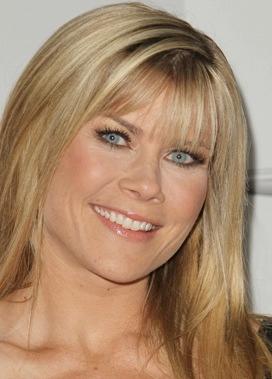 Busy mom Alison Sweeney packs her day with filming The Biggest Loser, Hollywood Girls Night and Days of Our Lives, on top of duties like picking her two children, Ben, 7, and Megan, 3, up from school and spending quality time with hubby Dave Sanov.
Despite her daily time crunches, the reality/soap star, 35, never relies on the quick fix of fast food. In fact, she doesn't even remember the last time she ate it!
Article continues below advertisement
"Fast food is just empty calories," she tells me while promoting Hill's Science Diet's Million Pound Pledge, which supports pet weight loss. "It's so bad for you. If you count the drive time, and the amount you spend on it, there's so much you can do in your kitchen or home that's easy and quick that's so much better for you and fun for the whole family. I have so much fun getting my kids involved in what we eat, and enjoying that. I love it!"
OK! NEWS: BOB HARPER SAYS BIGGEST LOSER GUEST STAR JESSICA SIMPSON WILL BE A FANTASTIC MOM
What exactly is so bad about fast food?
"First of all, it's filled with fat, it's filled with sodium," she says. "It doesn't have a lot of nutrients. It doesn't have a lot of things that are good for you. It doesn't have stuff that fills your up — healthy things that help your body that your body needs for fuel. In 20 minutes, you're going to be hungry again because all you're eating is crap."
Article continues below advertisement
Savoring a slow-cooked meal is the way to go, she says.
"When you eat a healthy meal, it actually tides you over until the next mealtime. You'll notice a big difference. When you eat junk food or a snack — chips or something — you're hungry ten minutes later, and thirsty, and you've accomplished nothing except added calories to your daily diet."
OK!'S RED CARPET CONFIDENTIAL: JAKE PAVELKA'S ADVICE FOR BACHELOR BEN FLAJNIK
But don't the kids pressure her for Happy Meals?
"I know that my kids had a Happy Meal one time, but we've got toys," she says. "I feel like I'm not depriving them of their childhood by keeping them from junk food. They have treats, they have sweets, they have fun stuff."
She adds, "I definitely allow treats along the way, but a homemade chocolate cookie is way better for you. It's more fun to be a part of the whole process of making it yourself and it's something you can do as opposed to wasting calories on fast food."
Article continues below advertisement
Alison doesn't need a fast food joint to satisfy her desire for a burger and fries.
"Sure, it happens when you drive by, but it's a fun challenge we'll make. It's not like we don't ever have burgers or something like a treat, but we'll make it at home or we'll come up with another plan. No, I actually don't really crave it. It's not like I never have French fries ... I just make them myself."
OK!'S RED CARPET CONFIDENTIAL: WATCH SHERRI SHEPHERD TALK ABOUT WANTING A SURROGATE!