VIDEOS
Red Carpet Confidential: Watch Sherri Shepherd Talk About Wanting a Surrogate!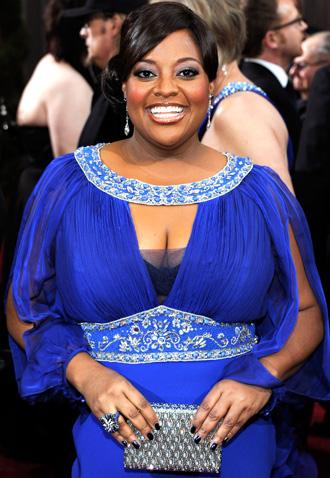 Just because Sherri Shepherd is competing on Dancing With The Stars, hosting The Newlywed Game and co-hosting The View, she isn't too busy to expand her family.
In fact, she's on the look out for a free womb seven months after tying the knot with hubby Lamar Sally.
"Girl, we're working on doing the fertility treatments right now, so we're just looking for an open uterus," she tells me this week during a video interview for Clorox's Last Comic Sitting contest. "If you've got an open uterus you want to loan me for nine months, I'll give you a free Wii for a year."
Article continues below advertisement
Jokes aside, the reason Sherri, 44, has decided to take the surrogacy route isn't only a matter of age.
"My son Jeffrey was born at 25 weeks, at 5 ½ months," she explains. "He was 1 lb., 10 oz., and I was on bed rest. It took a toll on my body and my spirit. I don't want to go through that again. Anybody who knows about having a premature baby, it's horrific. He was part of a twin, and I lost his sister. "
MORE ON:
Dancing With the Stars
Article continues below advertisement
Sherri's top priority is to give her son, who turns 7 next month, a lil' brother or sister.
"I've always wanted Jeffrey to have a sibling," she says. "God bless you if you have one child, but I don't think anybody should have just one child. Everybody needs a sibling. I have siblings, and I have so many amazing, precious memories with my siblings. I don't know what I would do if I had been an only child."
For Sherri, family comes first despite her many career opportunities.
"Girl, I sent my child to school with no socks on today, so where do we start?" she laughs. "My priority is my son and my husband, and I have a lot of spinning plates, so I try to make sure they're not one of them. If it takes away from my family, I say 'no. ' That's why I didn't do DWTS previously, because I wasn't able to have anybody help me with my son. Now that I'm married, I have the full support of my husband, and they're moving out to L.A. with me. That's why I've always said 'no.' If it takes me away from my son or my husband, I just say 'no.'"