NEWS
Red Carpet Confidential: Why Vanessa Hudgens Likes Taking on Scandalous Movie Roles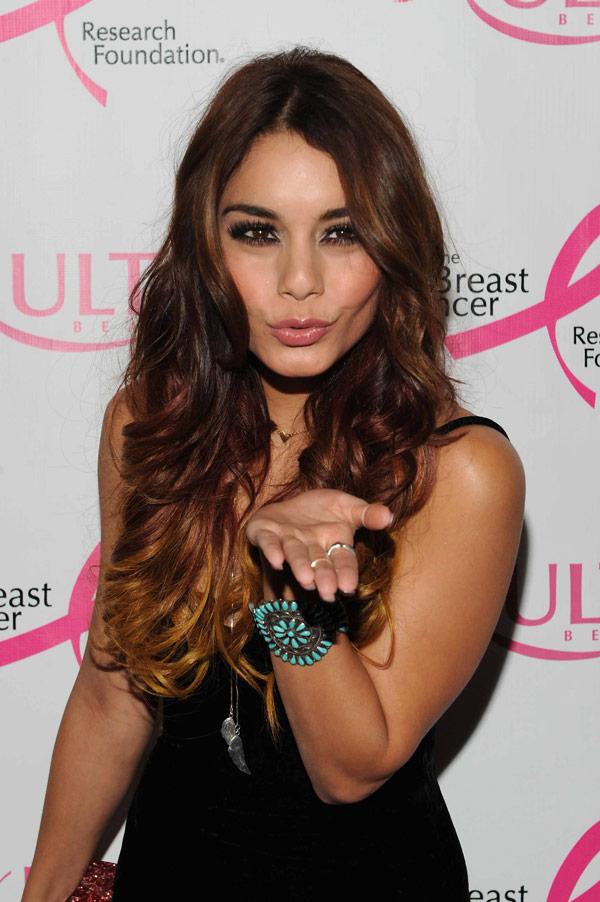 Vanessa Hudgens is loving her ombre locks, comparing her new hair color to a "fall leaf" Thursday during ULTA Beauty's Donate With A Kiss Celebration supporting The Breast Cancer Research Foundation held on the rooftop of NoMad Hotel in NYC.
Changing her hair hue is not the only beauty switch-up Vanessa has planned, though.
Photos: The 14 Types of Hot Dudes Zac Efron Has Played in Movies
Since making a name for herself with the High School Musical franchise, the actress, 24, has been branching out with edgier roles.
Article continues below advertisement
Not only does she play the daughter of Sofia Vergara's bra-doubling-as-a-weapon character in the thriller Machete Kills, in theaters October 11, but Vanessa plays homeless in January's upcoming drama Gimme Shelter.
Oh, and? Earlier this year, she portrayed a threesome-having wild child in Spring Breakers, plus a stripper in Frozen Ground.
Why is she trying so hard to get away from her clean-cut Disney roots?
"The roles are fun," good-natured Vanessa tells me. "I've been passionate about all the projects I've done, and I'm very passionate about the characters. I connected to them in a way that I felt like I could really tackle them."
Still, she makes sure she chooses her film projects wisely, and doesn't accept many of the roles that come her way.
"It's been a good time, only being selective is tough at times, because you end up sitting around a little bit, but then you get to find things that are real gold to you, and those are the things that I think really help you grow as a person and in your career."
MORE ON:
Red Carpet Confidential
Article continues below advertisement
OK! Exclusive: Kerry Washington's Thoughts on Being a Style Icon
Now that she's grown up, what image does the beauty, who is dating Carrie Diaries star Austin Butler and is pals with Selena Gomez, Ashley Tisdale and Miley Cyrus, hope to project?
"Someone who's passionate about what they do, who loves life. It's happy! laughs"
One thing Vanessa is passionate about is fighting breast cancer through her partnership with ULTA Beauty.
"My grandma actually passed from breast cancer, I just never met her," she explains. "It was a couple days after I was born. The research needs funds. It's nice to be able to support and raise awareness."
During the pink-themed event, guests enjoy cotton candy "kisses" in light-up cones. Flavors include lemon coconut, lemongrass, mango peach and salty caramel. Mmm!
What do you think of Vanessa's choice in roles lately? How are you supporting Breast Cancer Awareness this month? Tweet us @OKMagazine.