NEWS
Red Carpet Confidential: How Does Scandal's Kerry Washington Feel About Being a Fashion Icon?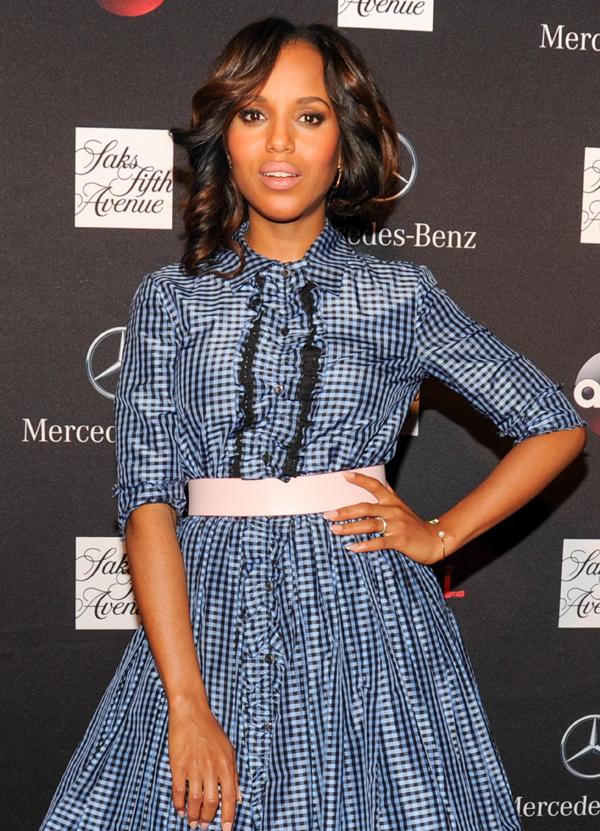 It's been a great few months for Kerry Washington, who quietly wed San Francisco 49ers football player Nnamdi Asomugha in June, topped Vanity Fair's "International Best-Dressed List" in July, and now stars in Scandal, which debuts its third season tonight at 10 pm ET on ABC.
"It's been a wonderful year, " the Emmy-nominated actress, 36, tells me Wednesday during the show's Mercedes-Benz sponsored Saks Fifth Avenue celebration and window installation in NYC. "I feel blessed with the opportunities I've been given, and with the response that the show has gotten from people."
Article continues below advertisement
OK! News: The Secret to Kerry Washington's Amazing Bod
Has it been her best year so far?
"We'll see where things go from here, but it's been a pretty kick-ass year for sure."
For Kerry, who is wearing Prada to the event, being lauded for her fashion sense is an accolade she didn't seek out.
"When I was announced that day, I went to work in sweats," she says as fans chant her name. "My goal has never been to wind up on anybody's list. I just want to make sure that I'm happy when I go out to red carpets, so that's going to continue to be my goal. I'm glad people like it!"
In everything she does, Kerry is hands-on—even with the mannequin installation at the department store.
Watch: The First Two Seasons of Scandal Recapped in 7 Minutes
"I landed at 1 a.m. and came straight to Saks," she says. "I had the driver take me to Saks, and he was like 'it's closed.' I was like 'it doesn't matter, I need to see the windows.' I came, and called Scandal costume designer Lyn Paolo, because she had just landed as well, and we were on the phone making final tweaks to things in the windows. It looked amazing, but we are perfectionists to say the least."
Article continues below advertisement
According to show creator Shonda Rhimes (who also created Grey's Anatomy and wrote Britney Spears' flick Crossroads!), Kerry is a "fixer."
"She likes to solve people's problems," she says.
Another way she helped is by teaching co-star Katie Lowes how to pose for photographs better.
OK! News: Which Friends Star is Joining Scandal?!
"The first photo shoot we did was terrible, and I could feel it," Katie says. "They weren't getting what they wanted. Kerry came up to me and whispered in my ear, 'you have to think these thoughts into the camera,' like it's an acting scene. Huge help! It changed how I take photos. I used to take bad photos, and I'm better now thanks to Kerry."
What was Kerry's specific advice for Katie?
"She tells you to think of it like an acting scene with a dude you're supposed to have chemistry with. To get excited, have a little bit of flirtation and interest, look alive, look like you want something from them that might be naughty sometimes—these are all good thoughts! Whereas I used to go dead."
Tonight (sans husband) Kerry mingles with castmates including Shonda, Katie, Scott Foley, Darby Stanchfield and Guillermo Diaz, plus guests like past and present Real Housewives of NYC stars Jill Zarin and Sonja Morgan.