NEWS
Red Carpet Confidential: Kellie Pickler Not Ready For Kids — Yet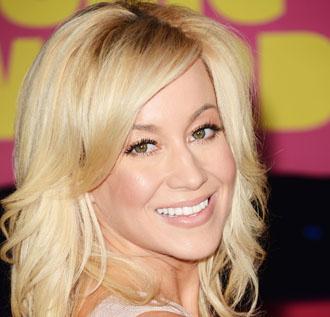 There are no visions of angelic babies dancing in Kellie Pickler's head.
The American Idol finalist, who performed at the CMT Awards and CMA Music Festival last week, is waiting to start a family with her songwriter hubby Kyle Jacobs, whom she wed in 2011.
"Kyle and I are just trying to enjoy being married and enjoy this chapter of our life," the country singer, 25, tells me. "Once we have kids, it's not going to be just us anymore. We're trying to get settled in as husband and wife. Neither of us had been married, and I never lived with anybody before. I've always lived by myself, I never even had a roommate, I never had a friend live with me, I never had a boy live with me. I've always been on my own, so it's a good thing Kyle's easy to live with."
Article continues below advertisement
OK! BLOGS: RED CARPET CONFIDENTIAL: KELLIE PICKLER SHEDS 40 LBS. ON DIY DIET
Before they cohabitated, Kellie was apprehensive about sharing her space.
"At first, I thought it was going to be difficult, but with me being on the road a lot, too, we had time to miss each other. We love to be with one another. He's my best friend. I picked a good one laughs. I got me a good one. I think I'll keep him."
For now, the couple are doting parents to their dogs including rescue pit lab Maddie, Chinese crested Dixie and Chihuahua MooMoo.
"We take them to the park," she says. "I actually take them to a little doggy spa to get pampered, and Maddie loves to ride in the car, so when I'm in town and I'm running errands where I can get her out of the car, she goes with me."
MORE ON:
Red Carpet Confidential
Article continues below advertisement
Despite Kellie's caring nature with her pets, she knows kids require a lot more work.
"Having children and having pets are two completely different things," she reasons. "You can't tell your kids to kennel up! Just because you can have pets doesn't mean you can raise children — they're two different things. Even though they both can act like animals sometimes laughs."
So no baby news?
"We don't have any baby news — not today anyway!" she says with a laugh.
What kind of family would they like one day?
"I don't know what the future holds for me," she says. "I don't know what God has in store for me down the road. I don't know if I'm going to be a mom or a grandma or what. Of course, we would want what any parent would want, and that's a healthy child regardless. So where they come from, if they're adopted or if they're ours, we would want the same thing that any parent would want. You always pray for them to have their health and that's the only thing you're concerned with. I don't care if it's a boy or a girl, as long as they're healthy. I would rather be the one with the disability and take it from them, if they had one."
She adds, "We don't know what the future holds. We're just trying to enjoy ourselves. I know we're not having kids today laughs."
Kellie's album, 100 Proof, is out now.