NEWS
Reese Embarrasses Her Kids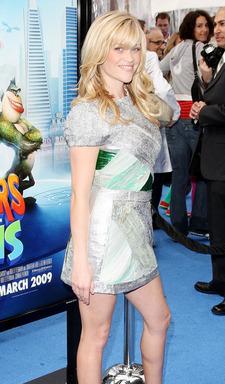 Who could ever be embarrassed by an Oscar-winning, hard-working mom? Apparently Reese Witherspoon's kids don't see the irony when it comes to their star of a mother.
"My children are embarrassed by me all the time. They're like, 'Mom you're being really stupid,'" she tells Pop Tarts.
But she did get some redemption! "When Monsters vs. Aliens came out, Ava told me I'm the coolest mom in the third grade. I said, 'Can you put it on a piece of paper and sign it for me please?' I was cool once."
MORE ON:
Reese Witherspoon
Article continues below advertisement
While we think Reese is basically set in the cool territory, there's definitely a part of the business she doesn't find so cool – raunchy roles that her daughter could end up seeing someday.
"I had my first baby when I was 23, so for me, no. I've always been choosing roles knowing that I have a daughter and I have a responsibility to her and to the world to be representing women of strength," the 33-year-old added. "These are the women I know in life. I think it's a natural extension of parenthood for you to feel like you're responsible for the worlds you create, whether they be silly or serious. I think you are responsible for the art you put in the world."