NEWS
Reese Witherspoon on Robert Pattinson: "He's a Very, Very Handsome Man"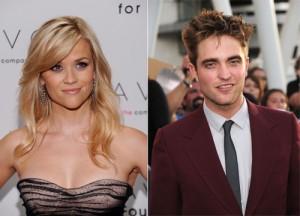 Article continues below advertisement
"The fervor and madness and girls waiting at 5 a.m. on a set in the middle of nowhere just to see him," Reese explained of what it was like filming with the Twilight heartthrob. "He's sweet and loving and has the nicest family."
OK! GALLERY: ROB & REESE REVISIT WATER FOR ELEPHANTS
But before you worry that Rob's real-life girlfriend, Kristen Stewart, will get jealous of all this sweet talk, Reese made sure to compliment her as well!
"Kristen is really sweet, too. He's a very sensitive soul," she added about Rob. "He worked really hard. He looks great in the movie, too."
Reese's 11-year-old daughter, Ava, got to meet Rob on set, but wasn't a Twi-hard because her mother thinks she's too young to read the books yet.
OK! GALLERY: REESE IS MIXING WORK & HORSE PLAY
But Reese felt she herself was old enough for them!
"I really liked them, me and all my 30-year-old friends!" she said. "I love the books."
So how does Reese get so lucky having such handsome actors as her co-stars? She must write it into her contract, right?
"I do. How did you find that out?" she joked. "Someone's gotta do it. It's like America's Test Kitchen, but for making out with hot co-stars. I do it for the girls. I love my job.
"They're all really good guys," she added. "And I know all their girlfriends."