NEWS
Reese Witherspoon Vogue Cover: 5 Things The Actress Revealed About Filming Sex Scenes, Her Children And Her Career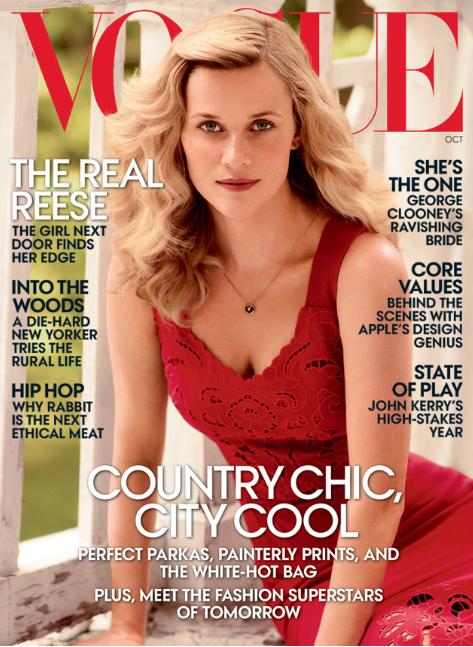 Reese Witherspoon has long been known as America's sweetheart, but much has changed since her Legally Blonde years.
The actress, 38, landed the October cover of Vogue wearing a red eyelet dress, minimal makeup and her hair in retro-style waves, where she discussed her evolving career at length.
The mother-of-3 is no longer focused on the types of films that used to earn her an upwards of $20 million, but rather going the "indie route." She's currently working on Wild, a film based on Cheryl Strayed's memoir about hiking the Pacific Crest Trail. With racy sex scenes and drug use, it's a far cry from the southern belle persona the world has come to associate with the Walk the Line Oscar-winner.
Article continues below advertisement
"When people underestimate me, it's actually a comfortable place for me," the October cover star told Vogue. "'Oh, that's what you think I am; well, no, I'm not.' I'm a complex human being. I have many different shades."
Here are 5 things Reese also revealed in her interview. The October issue of Vogue hits newsstands October 1.
1. Sofia Vergara, who will star alongside Reese in a comedy film, called the petite starlet (who is only 5-feet-two!) "My Little Pony."
2. She thinks her youngest son Tennessee looks like a "blond version" of husband, Jim Toth. "The older he gets, the more and more he looks like him. So cute."
3. One director she refused to name refused her for a part because she was "too 'Southern and sweet and huge.'"
4. Witherspoon, an Episcopalian, brings her children to church and has parental blocks on their computers.
5. She hired a hypnotist to help her through the filming of sex scenes in Wild.