NEWS
Report: Alleged Jesse James' Mistress Was Pregnant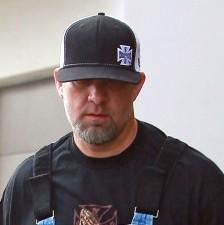 The drama keeps unfolding in the Jesse James sex scandal. The West Coast Choppers founder not only was unfaithful to wife Sandra Bullock, but reportedly one of his mistresses was with child at one point.
"Jesse got a mistress pregnant," a source told Radar Online. "Jesse knew about it."
OK! NEWS: JESSE JAMES' LAWYER: "HE'S A BROKEN MAN"
Reportedly, the mistress did not keep the fact she was pregnant a secret and did not have the baby.
Article continues below advertisement
Sandra was unaware of the pregnancy, according to Radar Online.
Jesse, 40, has been linked to having allegedly five mistresses, with the count climbing frequently in various reports.
The Monster Garage reality star is reportedly being treated at the Sierra Tucson rehab facility in Arizona.
"This whole thing has destroyed Jesse's entire universe," Jesse's attorney Joe Yanny recently told TMZ. "Right now, he's a broken man."
His lawyer also advised people not to assume the treatment is for sex addiction.
"The single most important thing to Mr. James and the children is that the marriage somehow survive," Yanny said.
Article continues below advertisement
Sandra was photographed Wednesday for the first time in two weeks traveling from her Hollywood Hills home to the home of longtime family friend Gabriel Brener.
She remained covered in a garment bag.
It has been reported that Sandra is shopping around for lawyers and wants a divorce.
Comedian George Lopez told Radar Online that he visited Sandra recently.
"I went to her house the other day after the Kids' Choice Awards and I saw her and sat with her for a few minutes. She's great," George said. "We love her. We're all on her side."