NEWS
OK! EXCLUSIVE: Rob & Kristen's Vancouver Rendezvous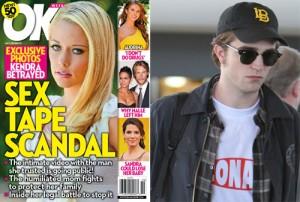 A visit to Vancouver to re-shoot scenes for The Twilight Saga: Eclipse recently doubled as a romantic getaway for Robert Pattinson and Kristen Stewart.
OK! NEWS: ROBERT PATTINSON SURPRISES ONE LUCKY FAMILY THANKS TO OPRAH
The actors were re-shooting a scene where Rob's Edward Cullen and Kristen's Bella Swan kiss; and the "tent scene," where Bella must choose between Edward and Jacob (Taylor Lautner).
Article continues below advertisement
"Test audiences thought the tent scene too 'dark and adult,'" a source tells OK!. To make sure it was just right this time, Twilight author Stephenie Meyer stood by director David Slade for three days of re-shooting.
OK! NEWS: LUCKY TWI-HARDS TWEET ABOUT OPRAH'S ECLIPSE SCREENING
Though each of the stars had their own, 1,600-square-foot suite on the 34th floor of the Sheraton Wall Centre, "Kristen's room remained untouched for the duration of Rob's stay," a source tells OK!. "She stayed in Rob's room the whole time he was in Vancouver."
"Do Not Disturb" were put on Rob and Kristen's door to prohibit anyone from entering — even maids.
OK! NEWS: OPRAH'S AUDIENCE TWEET TWILIGHT TAPING DETAILS
Bottles of red wine were delivered to their floor and Rob ordered orange juice, candied salmon and herb crackers from room service.
ROB LANDS IN L.A.:
And while there was no kissing or hand-holding during breaks on the set, Rob would guide Kristen by putting his hand on the small of her back, quietly showing his love with a small gesture.
OK! NEWS: KRISTEN STEWART — "I'M NOT MISERABLE"
Their romance will continue to blossom next week as Rob celebrates his 24th birthday on May 13. An insider close to the couple says Kristen, 20, is planning on giving Rob a rare vintage guitar for the occasion.
She's been looking at Fender guitars," says a source. "She wants to get him something really special, something really rare."