NEWS
REPORT: Jon Gosselin Using His Plus 8 to Minus Lawsuit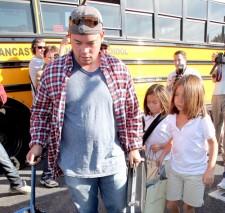 Looks like Jon Gosselin is more concerned about ridding himself of legal obligations, than his original worry of exploiting his children on network TV. Jon will allow TLC to film his brood of eight again, if the network negotiates to drop its lawsuit against him, radaronline.com reports.
The reality star has an expensive trial ahead in his future as TLC pursues its breach of contract claim against him.
Article continues below advertisement
TLC wants the judge to stop Jon from making media appearances that they say violate his contract, which remains in force.
Jon's argument is he has the right to make a living as a media personality. In a counter-suit, he also claims that TLC violated Pennsylvania's child labor laws by filming his eight children.
To avoid all the expenses and legal implications, Jon wants to make a deal with TLC permitting the network to film his children if the lawsuit is dropped, according to radaronline.com.
But fans of Jon & Kate Plus 8 shouldn't get their hopes up yet. It is most likely that the popular reality show will not return.
"You can be sure that if the kids come back to TLC it will be only with Kate, not with Jon," a source told radaronline.com, who believes the network will never take Jon back. "And there's no guarantee that will happen either."