NEWS
Report: One of the 15 Bachelorettes is Fooling Around Behind the 'Bachelor's' Back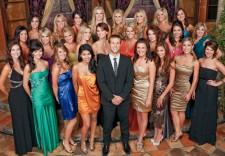 Looks like the new season of The Bachelor is going to be more drama-filled than ever. One of the young women looking to win airplane pilot Jake Pavelka's heart is also looking for some lovin' on the side. According to reports, one of the 15 bachelorettes was also fooling around with a crew member from the show, the NY Post reports.
The latest "Bachelor" scandal hit the public last week when ABC featured an on-air promo about the naughty contestant.
Article continues below advertisement
"She's been having a sexual affair with somebody else in the Bachelor House," one of the other 15 girls said in the clip.
The Web site, fansofrealityTV.com, claims to have inside information on the alleged affair between the woman and crew member, the NY Post reports.
According to the site, a male member of the show's production crew and one of the contestants had been romantically involved while The Bachelor was shooting last fall.
Officials from the show are refusing to comment, as reality shows usually have a strict policy about cast and crew fraternizing off camera.
Jake, the hunky bachelor this season, was turned away by Jillian Harris on the last season of the series.
Many have worried about kicking off a new season, fearing the series had become stale after 14 seasons on air.
However, it looks like the new drama will keep everyone on their toes. There has been no word on which bachelorette was caught fooling around.
The episode dealing with the issue is set to air in late January, according to reports.
The season kicks off on Jan. 4 on ABC. Meet the 15 lucky women vying for Jake's heart here!