NEWS
Report: Tony Parker Cheated On Eva Longoria With Teammate Brent Barry's Wife Erin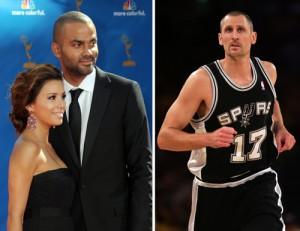 New details are coming to light about the end of Eva Longoria and Tony Parker's marriage: After Eva admitted she found text messages from the wife of a former teammate of her husband on Tony's phone, a Sports Illustrated reporter is citing a source who says that woman is Erin Barry. She is going through a divorce from Brent Barry, who played with Tony on the San Antonio Spurs.
Reporter Bryan Graham Tweeted: "Have it on good authority from entertainment sources that "former teammate" in Tony Parker-Eva Longoria affair is Brent Barry."
Article continues below advertisement
OK! NEWS: EVA LONGORIA SPEAKS OUT ON TONY PARKER DIVORCE
He also added, "Don't have much else on Parker/Longoria affair. Source did mention Barry and wife are going through a divorce."
Extra's Mario Lopez, a close personal friend of Eva's, said she told him that she discovered hundreds of text messages from another woman on her husband's phone, and the woman turned out to be one of his NBA teammates.