NEWS
Rescued Chilean Miner Edison Pena Runs NYC Marathon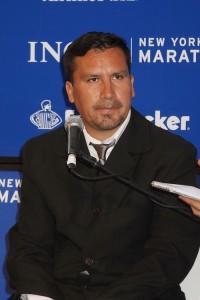 As if surviving after being stuck underground in a Chilean mine for 69 days wasn't a big enough feat, Edison Pena decided to take on a new challenge by running in the NYC Marathon on Sunday.
"First, I want to run this marathon, but secondly, I'd like to motivate those people who aren't running the marathon to do so in the future. I also want to especially motivate young children and youth to run because running makes you free," the 34-year-old survivor said before running the race, according to Yahoo.
Article continues below advertisement
OK! NEWS: CHILEAN MINER EDISON PENA IS "NERVOUS" FOR SUNDAY'S NYC MARATHON
Edison, who ran about 6 or 7 miles a day while trapped in the mine with 33 others, says that it helped him to clear his head.
"I always had faith to keep fighting, to stand up to things, to do what could be done."
As runner No. 7127, Edison was cheered on by fans making his way through the 26.2-mile-course.