NEWS
'RHOA' Star Phaedra Parks Dishes On The Secret to Keeping Her Marriage to Apollo Nida Hot!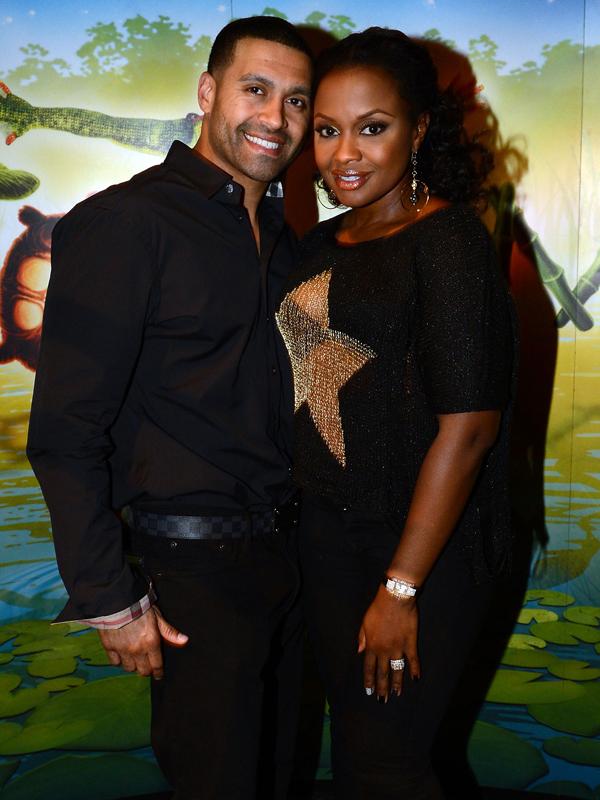 Phaedra Parks is happily married to long time love Apollo Nida despite their ups and downs over the years. And the pregnant reality star opens up to OK! about her history with the handsome Real Housewives of Atlanta star and dealing with women like co-star Kenya Moore flirting with her man…
OK!: Kenya was very flirty with Apollo, and obviously he's a good looking guy—is that something you have to deal with a lot?
Article continues below advertisement
Phaedra Parks: Not really. We live in Atlanta and most women in Atlanta subscribe to the rules—husbands are off limits. And if nothing else they are respectful enough to know not to do it in your face. But not all of us have been raised with that same sense of values.
I have eyes, and like I tell people, he's attractive, and you don't have to confirm what I can see. But if he was as ugly as a rattlesnake, if I married him then I obviously liked something about him so your confirmation one way or the other would not change the situation at hand.
OK!: You have a long history with Apollo – how has your relationship adapted through the years?
PP: When I first met Apollo of course he was young and crazy and he's still young and crazy (laughs). But he's just a different sort of crazy now. I think everything grows over the years. I always loved Apollo. Not from the moment I met him but I knew it was a very pure and innocent love because we met each other on the highway in rush hour traffic.
Article continues below advertisement
OK!: What happened?
PP: At that time no one had cellphones. It was a very different time—it was the 90s. People had pagers but it wasn't all this stuff that's going on now—no Twitter, Instagram, Facebook and all that. I'm from a small town so when he was like 'Hey let me get your number' I was like, 'Oh my God—he could be a killer.' I just have to keep driving. So in my mind I kept saying well if he's at my exit I'll give him the number. If he turns on my exit, maybe I'll talk to him. So every check point I made he basically made the check point. So then I said you know what, just follow me to my house—thank God he wasn't an axe murderer because he would have killed me. So he followed me to my house, I gave him my number and the rest is history. That was 1996.
OK!: Is that when things got serious?
PP: So we dated and then I found out he was way too young for me so then we didn't date and we became friends. But I always liked Apollo but he has always been very ambitious, been a hot head. So obviously he went to prison and we really didn't keep in touch during that time but I thought about him a lot but we didn't keep in touch—I was dating someone else, he was dating someone else.
Article continues below advertisement
OK!: Wow, so what happened when he was released?
PP: He called me and I was like, I wondered how was he now. And so when we met I was like okay… and he was the same guy. And by the time he was released, I wasn't on television but in my city I was quite well known and I was very suspicious of a lot of guys because once you become known and become very successful as a woman, you want to protect your assets, you want to protect the integrity of what you have built financially for yourself. And the one thing I knew about Apollo is that he definitely was never interested in me for the Phaedra that was the lawyer because when he met me I wasn't a lawyer, I was just a college student. I was just a regular girl. So that made me very attracted to him because I knew it was very honest.
OK!: And you balance each other out with your different personalities?
PP: He brings the fun?.. hmmm (laughs) I think we're very different but at the end of the day in some aspects we are the same but I think marriages are more successful when you have someone who is committed to the idea of marriage. Committed to commitment. And understand that you know—it is a journey. Because a lot of people look at marriage and they're thinking, it's the short term, but marriage is for the long haul so people grow, people change and you just have to be willing to maneuver good days, bad days and be committed to the institution of marriage and we're definitely committed to that.
I think that's what makes it work. But he is definitely fun and we're definitely totally different. That's what you need, differences make good sparks.
What are your tips for a successful relationship? Weigh in below or tweet us @OKMagazine! And be sure to follow @PhaedraParks.