NEWS
Ricky Gervais Has "Specific Targets" Planned for His Golden Globes 2012 Monologue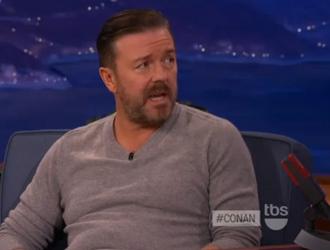 Will Ricky Gervais change his ways from last year's Golden Globes and not crack as many jokes? No. The comedian already has his opening monologue planned out!
OK! GALLERY: STARS SURPRISE ON THE GOLDEN GLOBES RED CARPET
"I have specific targets, but targets is a word I wouldn't use — they're subjects," Ricky told reporters at the Television Critics Association's winter press tour on Friday (via TV Line).
Article continues below advertisement
On Conan last night, Ricky told Conan O'Brien he's "excited" about hosting.
"I wasn't going to do it," Ricky explained. "The only reason I'm doing a third is because all the people who said I'd never be invited back. So I'm doing it to annoy them."
The host has also been answering a few fan questions on his Twitter about the upcoming show.
"7-second delay is the latest rumor. True?," One fan asked Ricky. "Probably," he Tweeted back. "There was last year. Its in case anyone accidentally swears."
We know the Golden Globes, featuring presenters Antonia Banderas, Nicole Kidman, Freida Pinto, Natalie Portman, Salma Hayek, Jake Gyllenhaal and more, will be a very entertaining show!