NEWS
Ricky Martin Cried "Like a Little Baby" After Coming Out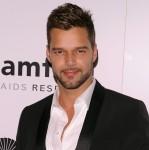 After adopting children, Ricky Martin decided he couldn't live a lie any longer and decided to reveal his secret to the world — that he is gay.
The Latin superstar tells Oprah Winfrey about the moment he came out, on her show, which is airing tomorrow. "When I realized, okay, I just pressed send, whoo... I was alone," Ricky says, reports PopEater.
OK! NEWS: RICKY MARTIN STARS IN HATE CRIMES PSA
"I was in my studio alone for a minute. My assistant walked in and I just started crying like a little baby. I started crying." Ricky also admits he felt "numb" before he was flooded with relief at finally revealing the truth about himself.
Article continues below advertisement
Ricky says having two-year-old twins, who were born via surrogate, made him realize that he had to be open about his sexuality.
OK! NEWS: RICKY MARTIN TO RELEASE MEMOIR
"I couldn't take it anymore. It was too painful. But I guess the most important thing is my children... When I was holding them in my arms I was like, 'What, am I gonna teach them how to lie?' Whoa, that is my blessing right there. Then, when I was holding my children I said, 'Okay, it's time to tell the world.' "
The "Livin' La Vida Loca" singer releases his memoir Me on Nov. 2, in which he covers topics such as his time in Puerto Rican boy band Menudo, his sexuality and fatherhood.
OK! NEWS: RICKY MARTIN: "I'M A FORTUNATE HOMOSEXUAL MAN"
"From the moment I wrote the first phrase, I was sure the book was the tool that was going to help me free myself from things I was carrying within me for a long time," he says.
"Things that were too heavy for me to keep inside. Writing this account of my life, I got very close to my truth. And this is something worth celebrating."