NEWS
Rihanna Clowns Around With Young Fans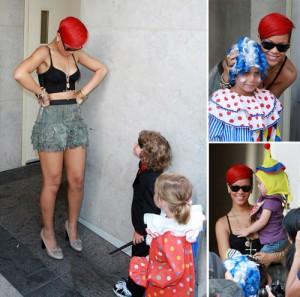 We're not going to pretend we understand why all these youngsters in Toronto yesterday were dressed up as clowns, but it seems Rihanna felt right at home with the wee darlings! Maybe it's the bright red hair? RiRi spent some time hanging out with the harlequin kids outside her hotel, signing autographs and posing for a few pics before a show later that night.
Article continues below advertisement
Rihanna's flame red hair worked out perfectly for her recent appearance the music video for the song she did with Eminem, "Love the Way You Lie," in which the two artists stand in front of a burning house.
OK! VIDEO: EMINEM & RIHANNA'S "LOVE THE WAY YOU LIE" MUSIC VIDEO
RiRi is never one to shy away from interesting trends — maybe we'll see her donning clown shoes and a polka-dot jumpsuit soon after this latest inspiration!