NEWS
Rob & Kristen Get Their Flirt On!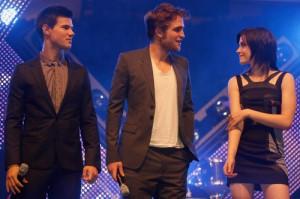 While Robert Pattinson, Kristen Stewart and Taylor Lautner were filming Oprah Winfrey's Twilight Saga: Eclipse special, they did an interview with USA Today and the chemistry between Rob & Kristen was reportedly high! From placing a hand on Rob's leg to finishing each other's sentences, the couple is having a hard time hiding their romance!
OK! GALLERY: R-PATTZ HITS THE WEST COAST!
"Such subterfuge includes neither confirming nor denying that they are in a relationship. Yet there clearly is some sort of special connection between the two, what with their playful teasing and personal asides," USA Today notes. "Let's just say it wasn't Lautner who placed a hand on Pattinson's leg during a portion of the interview."
Article continues below advertisement
"It is a well-oiled machine at this point," Kristen said of Twilight Saga: Eclipse's already positive feedback. "We have had a lot of time to establish what this thing is about and a lot of time to consider it. And they gave us so much more money this time. So that is exciting."
"For the film," Rob clarified for Kristen. "The budget."
"Oh, my God. No, no. That didn't even occur to me," she said. "They gave us so much more money to make the film look good!"
Article continues below advertisement
OK! COVER STORY: ROB TELLS OPRAH — KRISTEN'S PREGNANT!
And Rob was even hurt when he learned something new about Kristen!
When R-Pattz mentioned he still hasn't met his favorite star Jack Nicholson, Kristen interrupted, saying, "I have."
"What?" Rob asked. "When did you meet?"
"At a screening for Into the Wild," she explained. "He was exactly like you think he would be."
"You never told me that," Rob responded.
To which Taylor rubbed it in too!
"I didn't meet him but I sat next to him at a Lakers game," he said to which a frustrated R-Pattz replied, "What?"
OK! EXCLUSIVE: ROB & KRISTEN'S "BLAZING HOT" LOVE SCENES
As for their upcoming work, it sounds like Kristen's heard a lot about Rob's love scenes in Bel Ami.
Rob just wrapped Bel Ami starring opposite Kristin Scott Thomas, Uma Thurman and Christina Ricci.
"Yes," Rob said, as to whether he beds all three. "But they're not like typical love scenes at all."
"They're all a little weird," Kristen added. "A little edgy. And a little nude."
At which the couple both started laughing.
Perhaps an inside joke?