NEWS
Robert Downey Jr. Argues with Wife Over Matt Damon Prediction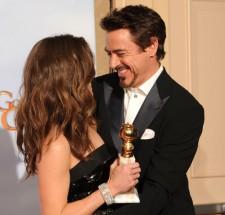 When Robert Downey Jr. was announced as the winner of the Best Actor in Film Comedy at last night's Golden Globes, he quipped to the audience that he didn't have a speech prepared because his wife, producer Susan Downey, had convinced him that Matt Damon was destined to win for his performance in Informant!. However, backstage, Susan wasn't ready to take all the blame.
When asked by reporters about what had really happened, RDJ once again pointed the finger at Susan, challenging her: "Did you or did you not say Matt Damon was going to win?"
Article continues below advertisement
Susan vehemently denied saying any such thing and tried to absolve herself of the error. "What I did say is I went online to see what the predictions are going to be."
However it actually happened, it doesn't matter, as not only did Robert win, but his impromptu "I have no one to thank" speech was one of the evening's highlights.
EXCLUSIVELY IN THE PAGES OF OK! — ALL THE DETAILS ON HOW NEW MOMS KENDRA AND KOURTNEY ARE DEALING WITH MOTHERHOOD
Also in this issue:
• Everything you need to know about Carrie Underwood's wedding!
• The feud between Jennifer Aniston and Angelina Jolie is just getting worse.
• Tag along with Jersey Shore's Ronnie and Sammi on their romantic night out in NYC!
...and all the latest news, gossip and photos!