NEWS
Robert Halderman Charged in Letterman Extortion Plot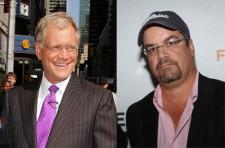 Robert "Joe" Halderman, 51, has been charged with the attempted extortion of $2 million from David Letterman, host of the Late Show, FOX 5 WNYW reports.
Robert is a producer for the CBS news show 48 Hours who threatened to make public a screenplay he wrote about David's affairs with women on his staff.
David met with his attorney and the district attorney's office and worked with them to set up an undercover sting operation at a hotel. After three meetings with Robert, a fake check was given to him for $2 million and after Robert tried to cash it he was arrested outside of CBS headquarters in NYC, TMZ reports.
Article continues below advertisement
If Robert is convicted he will face up to 16 years in prison.
According to the search warrant, seen by a Fox 5 News Reporter, Robert allegedly included a screenplay and supporting materials in a package given to David.
The supporting materials were copies of personal correspondence and diary entries of belonging to Stephanie Birkitt, girlfriend to Robert and former assistant to David.
TMZ reports that court documents show that Robert had made an agreement with his ex-wife Patty Montet to pay $5,966.66 a month in child support. They suggest that his expensive child support fees could be a reason for why he allegedly tried to extort the $2 million.
"I was worried for myself, I was worried for my family," David said during in on-air admission during last night's show. "I felt menaced by this, and I had to tell them all of the creepy things that I had done."