NEWS
Robert Pattinson Asks Critics Questioning His Acting: What Was I Doing in 'Twilight'?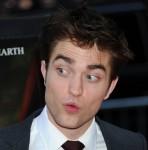 Article continues below advertisement
According to box office analyst Brandon Gray, Water for Elephants "is arguably a better vehicle for Robert Pattinson than Remember Me was, which was arguably a box-office flop. This will be a good test of Robert Pattinson's bankability."
OK! VIDEO: REESE WITHERSPOON RECALLS ROBERT PATTINSON'S "RUNNY NOSE" DURING WFE LOVE SCENE
And while Rob tries to defend his acting ability against the critics, he's also trying to keep the attention off of his relationship with Twilight co-star Kristen Stewart.
"I try my best to avoid it happening by never being seen or not saying anything stupid in interviews, but it doesn't seem to matter," he said of the rumors about them.
Rob's WFE co-star Reese Witherspoon, however, says he does live a fairly normal life.
"He's very much a 24-year-old guy who has a girlfriend and is enjoying himself and his friends," Reese said.
But Rob does have to be careful picking what restaurant to go to with friends.
"The only time I ever follow Twitter is if I'm in a restaurant or something, just before I leave, to see if people are waiting outside," Rob explained. "It does make you a bit of a loser, especially when someone asks you, 'Hey, you want to go to dinner at this place?' and I'm like, 'Can we have dinner at this (other) place? It has three exits.' "
Watch a clip of Rob's interview below!