NEWS
Robert Pattinson Involved in Fender Bender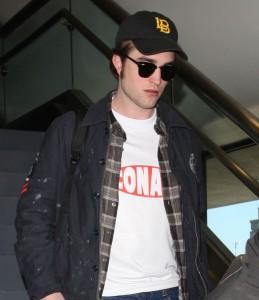 Twilight heartthrob Robert Pattinson had a rough evening on Saturday. Not only did he have a run in with the paparazzi, but he ended up getting involved in a minor car crash.
Eyewitnesses tell OK! that after leaving a friend's house in Malibu, Rob was in a collision with a Kia parked near the driveway at around 9 P.M.
OK! NEWS: R-PATTZ, SANDRA BULLOCK HEADED TO TEEN CHOICE AWARDS
As luck would have it, the owner of the car was none too worried about the scrape.
Article continues below advertisement
"If I had a nice car like a Lexus or something, maybe I would be concerned, but I've got an old Kia," Rob Gottschlich, who owns the vehicle, told OK!.
OK! NEWS: R-PATTZ GETS SCRATCHED
"I am going to ask Rob next time I see him for free tickets to the next Twilight film," Gottschlich joked.
Sure enough, local police received no complaints. "Nothing was reported that I can see," Scott Chew, the Malibu Sheriff Watch Commander told OK! on Saturday.
OK! NEWS: R-PATTZ & REESE GO GLAM ON SET
R-Pattz's rep told OK!, "Robert was pulling out of a parking space after a quiet day in Malibu yesterday and was relentlessly pursued by paparazzi. He has no knowledge of having bumped or damaged another car in the process."