NEWS
Robert Pattinson, Kristen Stewart, Stephenie Meyer & 'Twilight' Cast Share First Impressions of Each Other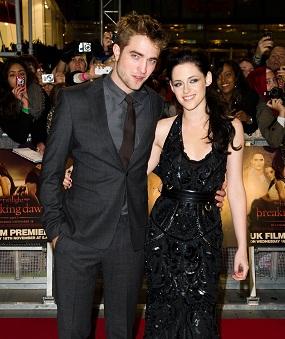 It's not surprising that there was a lot of reminiscing happening, and you should only expect more: the last Twilight movie has been shot, the story has been told. Robert Pattinson, Kristen Stewart, Taylor Lautner and the rest of the cast are making their last promotional appearances for the flicks that made them household names, and one such appearance, at Comic-Con in San Diego this week, got the cast, as well as author Stephenie Meyer, talking about what it was like when it all began.
Article continues below advertisement
OK! NEWS: ROBERT PATTINSON AND KRISTEN STEWART TALK SEX SCENES AND MORE TWILIGHT MOVIES
'The first time that I saw them was pretty memorable because I was meeting them for a cast dinner," Stephenie shared. They were coming from a shoot in costume. So, the first time that I met them they were all dressed up as my imaginary friends and it was one of the most bizarre experiences of my life. But it was so cool to see everybody, like, 'This is what they look like. This is real.' I kind of wanted to touch them. It was really, really cool and it was exciting because they all looked awesome and I was so excited to start working with them."
And when they did start working, was there a little bit of drama? Rob recalls arguing with Stephenie over some Edward's actions, but it sounds like it was just a standard result of what happens when creative juices are flowing — and it sounds like Stephenie remembers it fondly!
"Yeah, Rob sat there and argued with me about what Edward thinks and feels," she said. "It was amazing. It was awesome."
"But then after you've done, like, three movies you kind of get to the point where there's an instinctive understanding of it and you don't really know where you end and the character begins after a while," Rob said regarding the difference between exploring his character then and now. "So, I don't know. There are certain things where you don't know if it's you thinking because I've spent so much time in Vancouver going, 'Edward wouldn't do that,' and if someone asked you why, you wouldn't know why and you say, 'Because I wouldn't do it.'"
Article continues below advertisement
OK! GALLERY: ROBERT PATTINSON, KRISTEN STEWART AND TAYLOR LAUTNER GIVE SOME OOMPH TO COMIC-CON
As for Kristen? Although she couldn't possibly have known the magnitiude of what Twilight was about to be come, it seems she knew something special was happening from the very beginning,due to the immediate connection she felt with her castmates.
"I knew with both Rob and Taylor... it's hard to say in interviews because I find myself that I can't define it, but sometimes you meet people in your life and you think, 'We should make stuff together. We'll do good. Let's utilize whatever this energy is that passes between us. Let's do it,' and I had that with both of them," she said.
And wow, we are happy they did! Are you excited to Breaking Dawn — Part 2? (And are you secretly hoping for another movie, somehow, some way?) Sound off below!