NEWS
Kristen Stewart & Robert Pattinson Talk Sex Scenes and More 'Twilight' Movies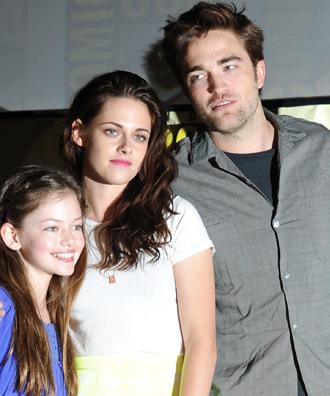 Article continues below advertisement
"It's a tricky thing. We're supposed to have mind-boggling, otherworldly... sex," she said with a laugh. "In the first one, Breaking Dawn 1, we tried to keep the first one sweet. It's about self-discovery. Nothing about this series is raunchy."
However, she continues that Breaking Dawn — Part 2 was a different ball game entirely now that Bella is a vampire.
"In the second one, we just wanted to be animals. We're not human anymore. How do you do that?" she asked. "We tried, and they told us it was rated R, and we were like snaps fingers. So, yeah, I'm going to stop."
"It is funny; if you told me tomorrow that we had to reshoot some scene, I would be so happy," Kristen said. "I would start vibrating, because I do really enjoy doing this role. Even though it is kind of a bummer to walk away, I look on it so fondly.... If people would actually call me 'the Twilight girl' and mean it, that's the biggest compliment."