NEWS
Robert Pattinson & Kristen Stewart: Will Their Love Survive 'Twilight?'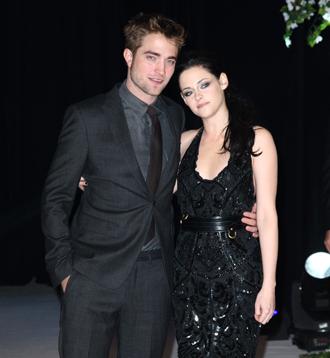 With The Twilight Saga: Breaking Dawn — Part I in theaters and the series coming to an end, those close to Rob Pattinson and Kristen Stewart fear the couple's offscreen romance may fizzle now that filming is finished and there's only one more installment to be released.
OK! NEWS: 'BREAKING DAWN' WEDDING DRESS REPLICA ON SALE NOW FOR $799!
"Their love has flourished because they've spend so much time together over the past four years. But now they're going to be pulled in totally different directions and time apart has always caused problems for them," an insider tells OK! in this week's issue.
Article continues below advertisement
Once the Breaking Dawn frenzy dies down, in a few weeks, Rob, 25, is set to go on tour for his new film Cosmopolis. In the summer, Kristen, 21, will be off promoting Snow White and the Huntsman with her sexy co-star Chris Hemsworth, whom she's clearly fond of. "On Snow White I really got close with the director Rupert Sanders and Chris,'' she says. "It's already upon them," a pal says. "They are going to face real challenges, no question about it."
OK! NEWS: ROBERT PATTINSON COMPARES 'BREAKING DAWN' BIRTH SCENE TO WHAT?!
Those close to the duo have already seen the effects separation has had on them. This summer their hearts hardly grew fonder while Rob was working in Toronto and Kristen was in L.A., the strain of being apart pushing them to the brink of a breakup.
"It did not go well. They fought a lot and at one point even seemed like they were going to split," a source says.
"The jealousy and insecurity that comes up when they're on separate film sets wreaks havoc," another source says, adding that it's understandable, given the fact each is dating a sexy, highly sought-after superstar!
FOR MORE ON ROB AND KRISTEN'S RELATIONSHIP, PICK UP THIS WEEK'S ISSUE OF OK! — ON SALE EVERYWHERE NOW!