NEWS
Robert Pattinson Says "Sometime in the Future" He'd "Love to Have a Family"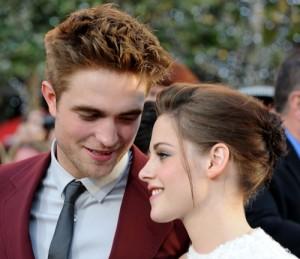 In a new interview, Twilight star Robert Pattinson shares some Kristen Stewart baby news — from filming Breaking Dawn. But he does say he'd love to have a family of his own... someday.
OK! NEWS: ROBERT PATTINSON SAYS "ROUND FEMALE BOTTOMS ARE VERY MUCH A MIRACLE"
Rob is sad to say goodbye to Twilight and his character, Edward, who he's grown quite fond of.
"It does feel like a breakup. I do love the guy — and I'm going to miss him," Rob, 24, tells the Chicago Sun-Times. "I prefer to think of ending this franchise like leaving school. It's the last day of high school."
Article continues below advertisement
"It's been amazing to play the same character through so many adventures," he adds. "And it's so strange because my life has changed so much over these years, but Twilight and Edward Cullen will always be a part of me. It's been my whole life. My whole 20's. And I wouldn't have it any other way."
OK! NEWS: ROBERT PATTINSON ON BREAKING DAWN SEX SCENE — "IT'S KIND OF INCREDIBLE"
One thing he would like to have a different way are fake interviews being published about him settling down with Kristen, like an Italian magazine allegedly wrote.
"I don't understand how they printed that. It's a completely made-up interview," Rob says. "I'd love to have a family — sometime in the future."
Until then, he's been busy starting a family with Kristen — on-screen!
"It was insane, intense," Rob says of filming the birth scene. "It was a pretty traumatic scene for me to do as an actor and, frankly, horrible for me emotionally.
"Edward has tried for so long not to turn Bella into a vampire and now... well, it's very sad," he adds. "He feels like he has let her down."
But those are all the secrets you'll get out of him.
"Now stop asking or I'll be in trouble."