NEWS
A-Rod: Obsessed With Madonna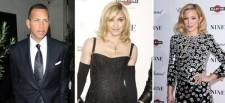 Despite her show-stopping singing in Nine, don't expect Kate Hudson to croon a Madonna tune anytime soon. The actress dumped her boyfriends of eight months, Alex Rodriguez, when she realized the Yankee third baseman was still in love with the "Material Girl," with whom he had a passionate affair after splitting from his wife Cynthia, in July of 2008. Rumors of a breakup started circulating since Kate made the rounds promoting her new movie musical. Even David Letterman couldn't resist asking what was up with the pair.
Article continues below advertisement
When he pressed her for relationship details, Kate dissolved into giggles and said A-Rod was "a nice guy," adding that it "was a really fun summer."
But off camera, she wasn't smiling. The source confirms she told A-Rod they would have no future if he persisted in talking to Madge.
When he refused, Kate was forced to call it quits.
"Kate was mad with jealousy," says a source close to the star. "She gave A-Rod three chances to stop contacting Madonna. When she found out that he was still calling and texting her, she hit the roof. How would you feel if your new boyfriend kept calling his ex?"
A NOT-SO-SHOCKING SPLIT
A-Rod insists he and the Material Mom are just friends. According to the source, he told Kate she was acting crazy and needed to get over it.
But Kate knows A-Rod's reputation and she didn't believe him.
"It broke her heart to break up with him, but she didn't have any choice. There was no way she was going to allow herself to become 'the other woman.' She said that if Madonna is what A-Rod wants then she can have him."
Article continues below advertisement
Friends are not surprised by the split; they've witnessed trouble brewing between the couple for a while.
"Kate and A-Rod were having lots of arguments in the two weeks before they broke up. They were fighting about everything and just couldn't get along," says the source.
"Kate was also worried that her parents didn't like him. Her mom Goldie Hawn had told her that she worried about his lifestyle — always being on the road and with so many temptations — made him an unsuitable father figure for Kate's son. Kate decided to end it before things with A-Rod got too messy."