NEWS
Rosie Huntington Whiteley "Waiting for a Proposal" From Prince Harry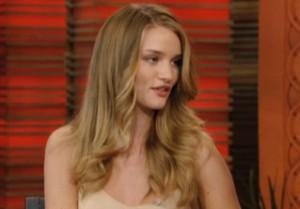 Rosie Huntington-Whiteley has a huge royal crush. The Transformers: Dark of the Moon star revealed this morning on Live With Regis and Kelly that she can't get enough of the "handsome" 26-year-old prince!
"I'll keep writing, we'll see what happens," Rosie told host Regis Philbin, who also has a royal crush on the Prince William's baby brother.
OK! VIDEO: KELLY RIPA REVEALS REGIS PHILBIN HAS A MAN CRUSH ON PRINCE HARRY
Article continues below advertisement
"He's so handsome," the 26-year-old supermodel-turned-blockbuster-babe, who is in a serious relationship with Jason Statham, told the co-hosts.
Rosie also revealed that her feelings for Harry were always strong and did not develop after the royal wedding.
She quipped she is patiently waiting for a ring from the prince.
"Yeah, most of my childhood, still now, I'm waiting for the proposal," Rosie joked. "Come on, Harry!"
Regis had quite a difficult time interviewing the bodacious bombshell after looking at her recent Maxim spread.
And Kelly Ripa loved calling him out on his flustered behavior, saying she has never seen him like this in an interview!
Watch the clip, via TV Squad, below!